Growing Up White House-Style: Obama Opens Up About His Daughters
In a podcast, the president talks up advantages of Secret Service escort and the joys of having normal teenagers.
By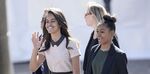 Malia Obama, the older of President Barack Obama's two teenagers, got a new worldview on her security detail thanks to her father, he said in a podcast interview that aired today. When the 16-year-old was chafing at the restrictions of life in a Secret Service bubble, the president pointed out that having a driver to bring her home to the White House expands her leash rather than shortens it.
"I had to explain to her, sweetie, let me tell you something, if you think that you'd be over at your friend's house until 11:30 p.m., and then I'd be coming to pick you up, you're crazy," Obama told comedian Marc Maron for his WTF podcast that was recorded Friday and released Monday morning. "So the only reason you're out is because you've got a detail."
Obama talked at length in the hour-plus interview about life in the White House for the first family. After intentionally keeping Malia, who will turn 17 next month, and her younger sister Sasha out of the limelight at the beginning of his presidency, Obama and First Lady Michelle Obama have increasingly opened up about the first daughters.
"They've had a lot more exposure than they had when they were younger," said Doug Wead, a presidential historian and author of a book about presidential children. Like their recent predecessors in the White House, Wead noted,  the Obamas have been fierce protectors of their children's privacy.
Lately, Obama has been mentioning his daughters not only in interviews, like the one with Maron, but in speeches. With Malia preparing for her senior year in high school, he says he gets sad at the clock counting down to her leaving home for college.
When Maron asked Obama what he does for fun, the president said "watching my girls grow up" and segued into what it's like to raise a family as president.
"When Michelle and I came into office, the biggest worry we had was, is this going to be some weird thing for them and are they going to grow up with an attitude, or are they going think that everybody eats off of china?" Obama said, laughing.
He said that worry turned out to be unfounded and they've turned out to be normal teenagers.
"They're confident, but without being cocky," he said. "They've got great friends. They're not stuck in the bubble the same way I am. They go to the mall. They have sleepovers. They go to prom. Malia is starting to drive. They're doing great."
The girls are students at the exclusive Sidwell Friends School, where Obama in January took his motorcade to attend their parent-teacher conferences.
Only 7 and 10 when their dad was elected president, the Obama girls are coming of age in the White House. Their playground equipment, installed when they were younger, still sits idle outside of the Oval Office.
Now, they are young women, almost at their father's eye level as they stood beside him in March at the commemoration of the civil rights march in Selma, Alabama and in November as he ceremonially pardoned a Thanksgiving turkey.
Wead, who has advised Presidents George H.W. Bush and George W. Bush, said it remains to be seen whether the girls will assume any public role during their dad's last year and a half as president. 
Recent history, however, suggests the nation could be seeing more of them. Jenna Bush Hager, who spent her teen years in the White House when her father, George W. Bush, was president, has blossomed into a TV star. And former President Bill Clinton has publicly suggested that his daughter, Chelsea, might succeed him as head of the Clinton Foundation should his wife, Hillary, win the presidency next year.