business
Greek Optimism Tempered by Finance Chiefs
Ian Wishart and Corina Ruhe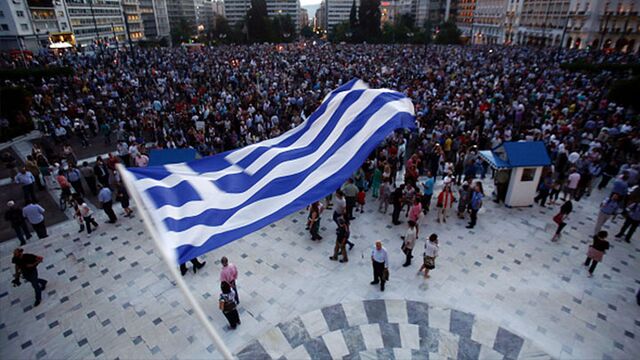 Euro-area finance chiefs tempered optimism that a deal on Greece was in the offing, saying expectations of a breakthrough were inflated amid confusion over new proposals intended to unlock aid.
With markets surging on speculation an accord was near, ministers closed ranks to douse hopes of an imminent deal as they arrived for a meeting in Brussels on Monday. Dutch Finance Minister Jeroen Dijsselbloem said it was "impossible to have a final assessment" of the Greek proposals since they had arrived so late, while his Irish counterpart, Michael Noonan, said he expected ministers to have to meet again on Thursday.
"I think this day is going to be a non-entity," Finnish Finance Minister Alexander Stubb told reporters waiting in the pouring rain. "This seems to be a little bit of a Monday where we have wasted a lot of air miles both on the finance ministers' side and on the prime ministers' side, because I don't foresee a breakthrough today."
The wave of negativity defied a rally of Greek bonds and shares on Monday after the Greek government said it had presented a new plan reaching out to creditors, including measures to eliminate early retirement options. The European Central Bank added to the prevailing sentiment by raising emergency funding for Greek lenders for the third time in less than a week, according to a person familiar with the decision.
The Athens Stock Exchange index was up 5 percent as of 3:36 p.m. local time after having earlier gained as much as 8.9 percent. The yield on bonds maturing in 2017 dropped 479 basis points to 24.1 percent while the 10-year bond yield dropped 149 basis points to 11.18 percent.
Merkel, Tsipras
"We are coming to these discussions aiming to strike a financially sustainable agreement," Prime Minister Alexis Tsipras told reporters in Brussels ahead of a meeting with European Commission President Jean-Claude Juncker.
Tsipras was due to meet with ECB chief Mario Draghi and International Monetary Fund head Christine Lagarde before attending an emergency summit on Greece of euro-area leaders including German Chancellor Angela Merkel and French President Francois Hollande.
Hollande, speaking in Paris, said Europe's two biggest economies were doing "everything" to keep Greece in the euro. "If we can't reach a full accord tonight we must at least lay the basis for an accord in the coming days," he said.
Parliament Support
With the clock running toward a June 30 deadline to make IMF payments and work out a new aid deal after months of fruitless negotiations, Tsipras will have to convince creditors that he's ready to compromise on election promises and avoid a default.
Even if he reaches a tentative agreement this week, he'll still need the support of parliament in Athens, which is dominated by lawmakers from his Syriza coalition opposed to austerity measures such as pension cuts. Any deal would also only serve as a stop gap measure, with Greece likely to need additional funding later this year.
German Finance Minister Wolfgang Schaeuble sounded a downbeat tone as he arrived in Brussels, saying that finance chiefs had yet to receive the "substantial proposals" needed to prepare the ground for leaders. That may mean a two-day EU summit scheduled to begin on Thursday is the ultimate forum for any accord.
Dijsselbloem, who chairs meetings of his euro-area counterparts, said that talks with Tsipras on Monday had been constructive. The creditor institutions -- the ECB, the IMF and the commission -- would assess "whether the additional plans are good enough," he said.
"It's the start of a process," Ireland's Noonan told reporters. "There was such confusion during the night with alternative versions of the Greek proposal coming in that there hasn't been any preparation," he said. "My expectation is we'll be meeting again on Thursday before the full council meeting."
Before it's here, it's on the Bloomberg Terminal.
LEARN MORE