Benghazi Committee Widening Its Inquiry, Top Democrat Warns
House Republicans begin releasing emails sent more than 18 months before the attack took place.
By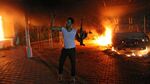 House Republicans on Monday released some 60 emails sent to former Secretary of State Hillary Clinton from associate Sidney Blumenthal dating back to February 2011, more than 18 months before the attack took place.
The move foreshadows an expansion of the probe into portions of the Democratic presidential front-runner's tenure that are unrelated to the September 2012 Benghazi attacks and more broadly about Clinton's foreign policy decisions, senior Democratic aides said.
"By the Chairman's own admission, these emails have absolutely nothing to do with the attacks in Benghazi, and their selective release demonstrates the Select Committee's singular focus on attacking Hillary Clinton and her bid for president," said Representative Elijah Cummings, the top Democrat on the Republican-led House Select Committee on Benghazi.
Representative Trey Gowdy of South Carolina, the chairman of the Benghazi panel, said the emails show Blumenthal "did not author a single intelligence memo" but "did provide candid advice about political matters and assisted in messaging her belief that our policy in Libya was a glowing success." The emails are available at this link.
Gowdy's aides said the committee was simply following the facts where they lead.
Democrats complained again that the Republican-led panel is refusing to release the transcript of Blumenthal's deposition, which they said provides necessary context for the emails. Blumenthal's lawyer also has called for the release of his full remarks to the panel. Gowdy rejected that request, saying that "all committee transcripts will be treated the same without regard to the political connections of the witness."
It's the latest turn for a committee set up in May 2014 with the stated purpose of investigating the Benghazi attacks, a Republican focal point long before they set up a special committee on the matter. Democrats have long argued that the panel's sole objective is to undercut Clinton's presidential bid, which was widely anticipated long before she announced it in April 2015.

Billy House contributed reporting to this article.