Barclays: Investors Aren't Really Worried About Greece
(But they are starting to fret about inflation)
By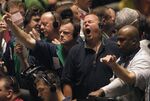 While European leaders and Greek politicians struggle to reach an agreement and stave off default, a new Barclays survey shows that investors are remarkably complacent when it comes to the potential impact of a "Grexit."
According to the survey of nearly 900 investors, conducted by Barclays from June 10 to June 17, fewer than 20 percent of respondents thought a departure by Greece from the euro zone would be bad for wider markets.
So if not Greece, what do these investors actually think is the biggest risk to global markets?
It turns out many are worried about China and emerging markets, as growth in the region is slowing and stocks are pulling back. The Shanghai Composite Index fell roughly 13 percent last week, its biggest weekly drop in more than three years. About 16 percent of respondents to the Barclays survey cited persistent worries over worsening market liquidity, while 13 percent viewed policy withdrawal by the Federal Reserve as the main risk.

Elsewhere in the survey, investors appear bullish on stocks and bearish on bonds. A large majority called for equities to perform best over the next three months, with fixed income seeing the least number of bulls.

There were a number of other interesting findings in Barclays's 28-page note. For instance, rather than the disinflation worries that have kept the Fed at bay when making monetary policy decisions, investors are now more concerned about inflation over the next one to two years. Guillermo Felices and his team point out that "for the first time in three quarters, the majority of participants see inflation as a bigger risk than deflation over the next 12-24 months."

Barclays also asked participants where they thought gold and oil would be at the end of the third quarter.
With gold currently trading around $1,180 an ounce, survey respondents didn't expect much movement. The majority predicted the precious metal will stay in the range of $1,150 to $1,250.

And with Brent crude trading at $63 a barrel, it doesn't look like they expect a major rally. The survey showed that participants saw oil ending the third quarter between $50 and $70.