Taliban Attack Afghan Parliament in Power Play as U.S. Exits
Eltaf Najafizada and Kartikay Mehrotra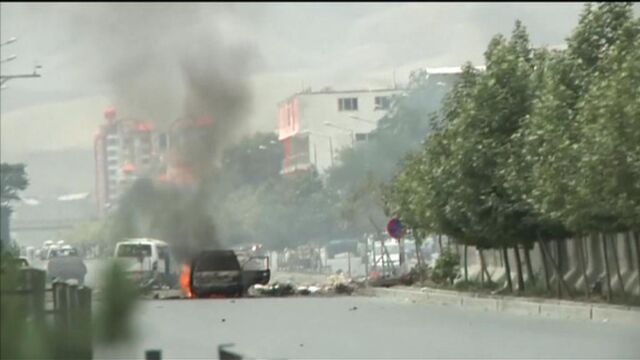 Taliban militants attacked Afghanistan's parliament Monday in one of the most brazen challenges to the government's authority since the U.S. ended combat duties six months ago.
An assailant blew up a vehicle at the entrance gate to parliament, shrouding the building in smoke and sending lawmakers racing for the exit. The diversion allowed seven fighters to sneak in and start shooting, Sediq Siddiqi, an Interior Ministry spokesman, said by phone.
Afghan forces killed all the assailants after a shootout that lasted for about 90 minutes, Siddiqi said, adding that no lawmakers died or were wounded. Five civilians were killed and more than 20 others wounded, the Afghan Independent Human Rights Commission in Kabul said in an e-mailed statement.
President Ashraf Ghani condemned the assault in the "strongest terms," calling it an act of "clear enmity with Islam," according to a statement from his office.
The attack shows the challenge Ghani faces in keeping the Taliban from upending the democracy installed after U.S. forces invaded in 2001. The group has taken control of more districts recently, showing its strength as American forces withdraw.
"We didn't need another reminder, but here it is -- when U.S. troops leave, it will make the job of our own forces even more difficult," said Halimullah Kousary, head of research at the Centre for Conflict and Peace Studies Afghanistan.
Lawmakers 'Terrorized'
The first blast came as lawmakers prepared to vote on Ghani's choice for defense minister, former peace envoy Mohammad Masoom Stanekzai. Parliamentarians screamed and rushed to leave as thick smoke filled the room. House Speaker Abdul Rauf Ibrahimi called out "Don't get scared!" on footage broadcast live on broadcaster Tolonews.
The Taliban claimed responsibility for the attack and said it was meant to disrupt the vote for Stanekzai, who had previously participated in peace talks with the Taliban. Stanekzai was in the building at the time of the attack, though not in the main room, according to Shukria Barekzai, a lawmaker who witnessed the attack.
"The incident terrorized every lawmaker," she said by phone. "It was a huge explosion that shattered the windows of the building."
The Taliban now control about six districts of more than 350 after recently taking two in the northern province of Kunduz. Forty percent of Afghanistan faces a significant threat from insurgents, according to the United Nations.
Indian Prime Minister Narendra Modi called the blast "despicable," while Pakistani leader Nawaz Sharif called terrorism "a common enemy" in condemning the attack.
The war in Afghanistan killed 92,000 from 2001 to 2014 and wounded almost 100,000, according to a report this month from Brown University. That toll includes Afghan and foreign civilians, foreign forces and insurgents.