pursuits
Ad Woman Behind Ford's Mustang Defies Gender Bias Before Cannes
Kristen Schweizer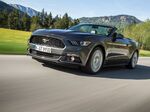 Karin Onsager-Birch's reputation in the ad world is such that when Ford Motor Co. was looking for someone to revive its brand and bring its all-American Mustang sports car to Europe, she was the natural choice.
Yet Onsager-Birch, who recently joined Interpublic Group of Cos's FCB agency in California, is one of a select group of women to become a creative director. About 11 percent of her peers in the industry's highest-profile job are women. While that's better than the 3 percent in 2008, Onsager-Birch says there's a long way to go to leave behind the 1960s "Mad Men" stereotypes.
"It's often times still a club of men who hire and promote only their buddies," she said. "In reality, the clients often want female creative directors."

The lack of woman leaders in advertising is starting to get noticed. This week at Cannes Lions, the industry's biggest annual gathering, there will be an award for work that challenges gender bias and shatters stereotypical images of men and women in ads, called the Glass Lion. Sessions on equality will be hosted by celebrities such as actress Samantha Morton, actor Adrian Grenier and Monica Lewinsky.
As worldwide ad sales continue to climb, fueled by Internet revenue -- researcher ZenithOptimedia predicts the market will expand by 4.4 percent to $544 billion this year -- ad agencies have become increasingly aware of the benefits of putting women in senior positions.
Omnicom Inc., the second-largest ad company, has created the Omniwoman project, a series of one-day conferences aimed at boosting female hires.
Creative Bootcamps
Kat Gordon, who owns the Maternal Instinct ad agency in Palo Alto, California, organizes The 3% Conference, which campaigns for greater industry representation through talks and "creative director bootcamps" aimed at promoting women leaders. Partners include agencies Sapient Corp. and J. Walter Thompson as well as tech companies such as Adobe Systems Inc. and Apple Inc.
"Our industry doesn't have a recruitment problem, but a retention problem," Gordon said, "particularly in childbearing years."
At the OgilvyOne ad agency in London, creative director Emma De La Fosse said she's lost a number of talented women colleagues who don't return after having children. "At a certain point you notice a sharp drop of women in senior creative roles."
De La Fosse relies on her husband to share chores and school runs. She won accolades in 2014 for a British Airways Plc campaign the year before that included interrupting programming on a billboard in London's Piccadilly Circus every time a BA plane passed over to flash data that showed the flight number and destination. The campaign reached more than 1 million views on YouTube.
Gender Balance
Sean Cummins, who founded ad agency Cummins & Partners, strives for a 50 percent gender balance in the office and encourages women to become partners and local agency owners.
"The business sadly is still run by middle-aged white men, but we can't just talk about it; so we're trying to do something," he said. "We can't be a frat-boy industry anymore."
In recent years, some of the most-awarded ads have come from women seeking to champion their gender, such as Dove's Real Beauty campaign, which features models who look like everyday women with curves and not the stereotypical image of a super-thin model.
Another was the "Like a Girl" spots for feminine-products maker Always, which aimed to shatter negative connotations attached to the phrase of running, throwing or doing something "like a girl."
Blue Hive
For Onsager-Birch, being a creative director means working 12-hour days and sometimes weekends. She spent more than a decade at U.S. agency Goodby, Silverstein & Partners, where she was its first female art director, then went on to serve as creative director, where she helped carmakers Hyundai and Chevrolet boost sales. In 2012, she moved her family to London from California to join The Blue Hive, a WPP Plc-owned agency that works exclusively for Ford, overseeing more than $500 million of spending in Europe. Last month, she was poached by FCB as its U.S. west coast creative chief.
On the Mustang, she devised a TV and digital campaign, where would-be buyers could be among the first 500 to pre-order the car during the 2014 European soccer championship final. They sold out in 30 seconds. Brand opinion for Ford has risen 15 percent since 2011, according to Usha Raghavachari, a marketing manager for the companny in Europe.
"I tend to see the stories that can be told around cars," Onsager-Birch said. "Parents bringing home a new baby, a teen's first car at 16, parents antiquing while their kids are at college -- more sensitive stories that I think us women are skilled at telling and feeling."
Before it's here, it's on the Bloomberg Terminal.
LEARN MORE