Williams Says He Expects Fed to Raise Rates Twice in 2015
Aki Ito, Jeanna Smialek and Christopher Condon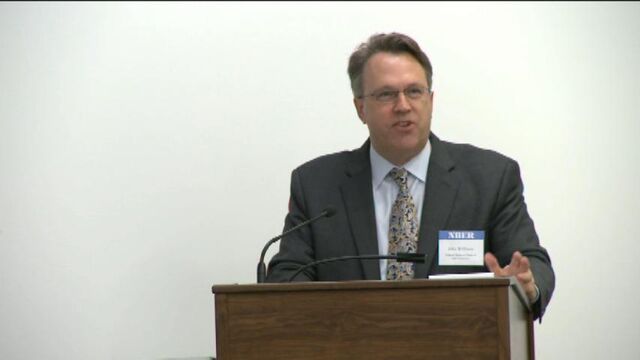 The Federal Reserve should raise interest rates twice this year, said San Francisco Fed President John Williams, provided the economy develops as forecast.
"We are getting closer and closer," to raising rates, he told reporters on Friday after delivering a speech in San Francisco. Williams, a voter this year on the policy-setting Federal Open Market Committee, was head of research at the regional bank when it was led by now-Chair Janet Yellen.
"My own forecast would be having us raise rates two times this year," he said. "But that would depend on the data."
Policy makers this week signaled that a pickup in the economy is keeping them on track to tighten in 2015, though subsequent increases are likely to be more gradual than previously anticipated. While their median projection for the main interest rate implied two moves this year, more officials now project either one rate increase or none in 2015.
Williams' comments clarify his views on the how the increases should proceed and place him clearly in the center of that policy debate. The FOMC has held its benchmark federal funds rate near zero since 2008.
"His prescription for two rate hikes this year is probably driven by his expectations for the economy, which are more optimistic than Janet Yellen's," said Neil Dutta, head of U.S. economics at Renaissance Macro Research LLC in New York. "He's pretty optimistic."
More Evidence
Yellen told a press conference after the FOMC meeting ended on Wednesday that officials want "evidence of some further progress" toward their goals for full employment and 2 percent inflation before tightening.
In the Fed's so-called "dot plot" released Wednesday, seven officials projected fewer than two rate increases this year. Five officials projected two increases and another five projected three. The dots represent Fed officials' forecasts through the end of 2017 and are anonymous.
Williams also said that raising rates earlier rather than later would allow the Fed to tighten gradually, which he favors because the U.S. economy still faces significant headwinds.
"If we raise rates sooner rather than later, then we can do it more gradually," he said.
Williams said earlier that he sees unemployment falling to 5.2 percent this year and expects growth to average about 2.75 percent for the next several quarters before slowing to "a more sustainable pace" next year.
For more, read this QuickTake: The Fed's Countdown
"We're making good progress across most measures of the labor market," he said. "Now that wage growth is starting to take off across multiple measures, it further confirms that the labor market is nearly healed."
Job Gains
Employers added 280,000 positions in May, the most in five months. Average hourly earnings accelerated to a 2.3 percent year-over-year pace, matching the fastest since August 2013.
In separate remarks, Cleveland Fed President Loretta Mester said the economy could cope with higher rates this year, though she declined to say how many moves she favored. Mester next votes in 2016.
"One rate increases, two rate increases, three, we're just going to be data dependent," she told reporters after delivering a speech in Pittsburgh. "I do think the economy can support a 25 basis-point increase in interest rates; however, I also understand the argument that getting a little more confirming data is reasonable as well."