Unforgiving U.S. Risks Lost Generation of Black Men, Obama Says
Toluse Olorunnipa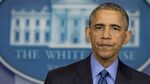 President Barack Obama, who has spent the past year addressing the issue of race on an almost weekly basis, said an "entire generation" of young minority men may have been lost while growing up in an environment much less forgiving than his upbringing in Hawaii.
"Where I might have gotten a second or a third chance, they had no margin for error," Obama said in a documentary about his My Brother's Keeper initiative, posted on the Discovery Channel's Facebook page on Friday. "I always see myself in them. I do know what it means to come of age uncertain about your place and not clear about what it means to become a man."
Obama's participation in the documentary, titled "Rise: The Promise of My Brother's Keeper," is part of his promotion for the year-old initiative for young men, and another chance for him to speak bluntly about race after largely avoiding the topic early in his presidency.
During Obama's second term racial issues -- from inequality to criminal justice to policing in minority communities -- have moved to the forefront of the national debate. In the past year, the U.S. has seen mass protests and unrest in New York, Baltimore and Ferguson, Missouri, after the deaths of unarmed black men in encounters with police.
Race again occupied the president's agenda on Thursday, after a white gunman killed nine people at a predominantly black Charleston, South Carolina, church in what officials have labeled a hate crime.
Dark Chapter
"The fact that this took place in a black church obviously also raises questions about a dark part of our history," Obama said Thursday at the White House.
Obama created My Brother's Keeper in February 2014 in response to a series of highly publicized deaths of black men, often in encounters with police officers. The goal of the initiative, which Obama has increasingly referenced in public speeches, is to increase opportunity for young black, Hispanic and Native America males.
The president has called for changes to the criminal justice system and more funding for early childhood education programs to help combat high rates of incarceration and unemployment in minority communities.
Last month, Obama unveiled My Brother's Keeper Alliance, a non-profit organization that works with private companies and foundations with similar goals. The organization is intended to extend the work of Obama's initiative after he leaves office.
In the documentary, which will be broadcast on the Discovery Channel on Sunday, which is Fathers' Day in the U.S., Obama said he started the initiative to combat negative images of young men who are often seen as a threat.
"Part of the purpose, I think, of My Brother's Keeper is to allow people to interact with these young people, and to see themselves in these young people because so often these young men are seen only through the filter of stereotypes," he said.