politics
Top Republican Candidates Tread Lightly on Gay Marriage at Evangelical Summit
With a gay marriage ruling at the Supreme Court likely days away, candidates at the Faith & Freedom Coalition speak to the base on the issue, even as many keep an eye on the general electorate.
By and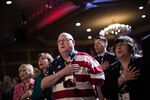 There was an elephant stalking the room this week at the Faith & Freedom Coalition's annual Washington meeting, and it wasn't of the crowd-pleasing Republican variety. The Supreme Court's imminent ruling on same-sex marriage has Republican presidential candidates caught between a general-election electorate that's rapidly embracing gay rights, and a large faction of the party's evangelical base that's still steadfast in its opposition.
Same-sex marriage, which the Republican Party successfully wielded as a wedge issue just a decade ago, now commands the support of three-fifths of Americans. Many legal scholars expect the Supreme Court to legalize same-sex marriage in all 50 states before the justices conclude their term by the end of the month. 
Also on Bloomberg Politics: Turmoil Only Sure Thing If Supreme Court Rejects Gay Marriage
The result: Delicate footwork by the Republicans most likely to win the nomination—and therefore wanting to preserve their opportunity with swing voters—and red-meat rhetoric from long-shot competitors anxious to gain ground with the evangelical constituency that can often determine primary and caucus winners. The differences in how they addressed the crowd were stark.
The read-meat contingent
Senator Ted Cruz of Texas accused Democrats of pushing "mandatory gay marriage in all 50 states," and warned that a judicial victory for gay-marriage advocates could lead to government persecution of Christian churches and schools. He asked the crowd to pray that the justices "not engage in an act of naked and lawless judicial activism, tearing down the marriage laws adopted pursuant to the Constitution."
Cruz also cited this year's controversies over two states' religious-freedom bills, where Republican governors and state lawmakers backtracked following protests over the prospect that the laws would shield anti-gay discrimination. "Every one of us, our hearts broke a couple months ago in Indiana and Arkansas," the Texan said before adding that "more than a few Republicans running for president in 2016 chose that moment somehow to go and rearrange their sock drawer." The crowd ate it up.
Former Pennsylvania Senator Rick Santorum, the party's runner-up in 2012 who's running again in 2016, stressed his history of fighting gay marriage and urged the crowd while evaluating candidates to "look at their track record" and willingness to lead, "particularly on the cultural issues."
Louisiana Governor Bobby Jindal cast the issue of same-sex marriage as an overarching battle about whether Americans truly have freedom of religion and speech.
"Unlike President [Barack] Obama and Hillary Clinton, my views on marriage are not evolving with the polls. I believe in traditional marriage between a man and a woman," said the potential Republican candidate. "This fight is bigger than marriage...this fight is about religious liberty. This fight is about whether you really do have First Amendment rights.
"I'll summarize this in a way that even the liberals and Hollywood can understand: The United States of America did not create religious liberty, religious liberty created the United States of America," he said.
Other candidates seemed aware of the changing poll numbers, delivering remarks that suggested sympathy with the crowd without leaving a trail of tell-tale soundbites that Democrats might use against them
The front-runners
"While there are people that disagree with this, we should not push aside those that do believe in traditional marriage," said former Florida Governor Jeb Bush. "I for one believe it's important, and I think it's gotta be important over the long haul irrespective of what the courts say."
Senator Marco Rubio of Florida didn't mention same-sex marriage, but made a veiled reference to it when he argued that "the government is not meant to replace moms and dads, it is meant to empower them."
"We see an erosion in our culture and in our values," he added. "You cannot have strong families with a government that strong-arms parents and our faith."
Senator Rand Paul of Kentucky emphasized the importance of virtue and the rights of minority religious views, but didn't directly address same-sex marriage. "We believe that our rights come naturally from God," he told the crowd, "and that a majority shouldn't take them away from us."
The pledge
The National Organization for Marriage on Thursday released a pledge which would commit candidates to back a constitutional amendment restricting marriage to opposite-sex couples, in an attempt to overturn an unfavorable Supreme Court ruling, and to have the Justice Department investigate harassment of same-sex marriage opponents. Iowa Representative Steve King used his Faith & Freedom speech Thursday to reiterate his call for "civil disobedience" if the Supreme Court sides with same-sex couples, a prospect he compared to its rulings in Roe v. Wade and Dred Scott, the 1857 pro-slavery decision.
If they're defeated at the Supreme Court, some same-sex marriage opponents want presidential candidates to show similar commitment. "I would hope that they would strike that [ruling] down, and just do what our Founding Fathers said to do and what the Bible says to do," said Faith and Freedom attendee Gary Cuprisin, a 69-year-old retired chef. If a ruling in favor of gay marriage stands, he said, "what I've heard on the talk radio is that every law, and everything that says 'man and woman' and 'family' is going to have to be struck from the records."
But even at the conference of the Faith & Freedom Coalition—the group Ralph Reed founded as "a 21st-century version of the Christian Coalition on steroids"—others were ready to move on if same-sex marriage becomes the law of the land. "I don't think they should amend the constitution," said South Carolina insurance agent Donna Snyder. "If the Supreme Court says it, then I will go along with it, because they are the rulers of the land ultimately."
Before it's here, it's on the Bloomberg Terminal.
LEARN MORE