Photo illustration: Jeremy Allen/Bloomberg Business
Style Guide
Nine Style Lessons From the Best-Dressed Event of the Year
Instagram is a men's fashion masterclass during Florence's Pitti Uomo tradeshow
By
Europe's Month of Men's Fashion is upon us.
With Pitti Uomo and London Collections (and all its crazy shoes) behind us, our style director Nic Screws is about to embark the third leg of her fashion industry world tour, Milan Fashion Week (read more here).
What is Pitti, you ask? Ostensibly it's the world's most important menswear tradeshow where fashionable gentleman from the four corners of the world gather in Florence, Italy, to talk shop with designers, buyers, and press over a scoop (or ten) of gelato.
In practicality, it's also one big lesson on how to dress. And dress bold. And show the world on Instagram.
Before we head north, here are nine style tips worth noting this year—and you can start incorporating into your own looks right now.
1. Bold Windowpane Suits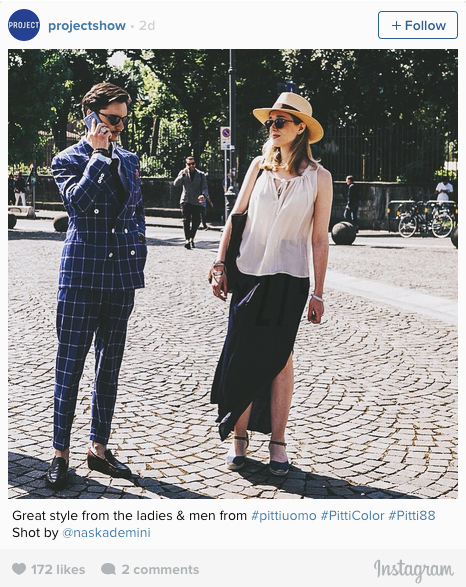 The distinct pattern of a windowpane fabric is a strong option to spice up your summer suiting. To stand out even more from the crowd (and in this rig, that really is the point), don't wear a simple navy, black, khaki, or gray, but choose a contrasting pattern like white on navy. 
2. White Sneakers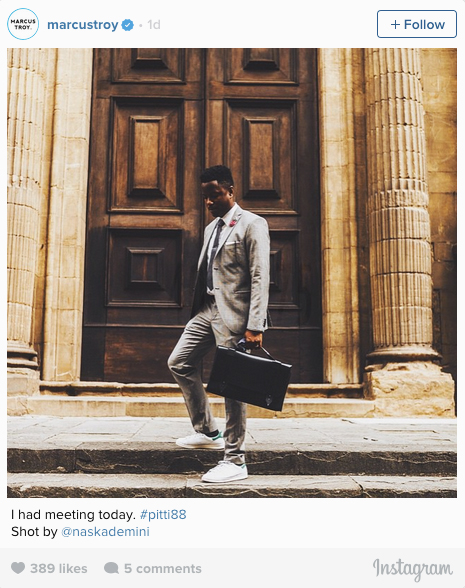 @MarcusTroy took his razor-sharp suit and dressed it down casually by slipping on a pair of white Stan Smiths sneakers. Looking good while being comfortable is always a win-win.
3. Summer Plaids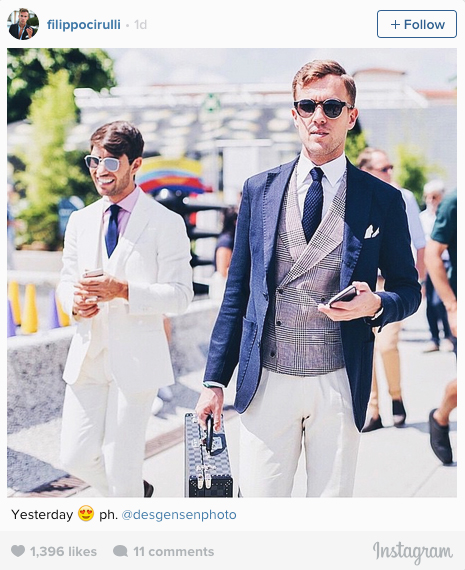 Adding a little pattern, like this plaid double-breasted vest to a traditional navy-and-white combo is a surefire way to amplify an outfit—especially if you're not ready to commit to full plaid suit. A solid blazer on top helps mute the plaid's busyness, giving you time to adjust (and we'd wager, fall in love). 
4. Sporty Props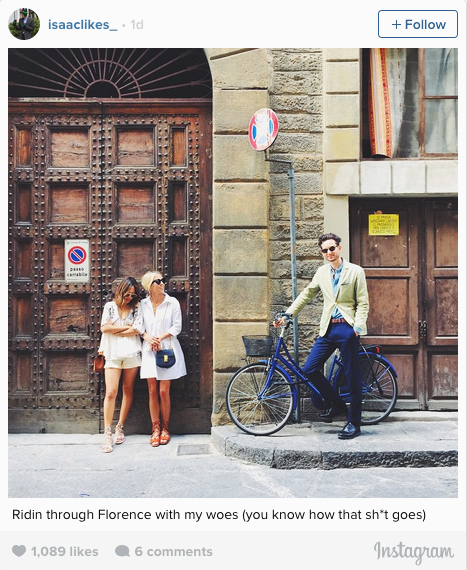 Get a bike already. You're broadcasting your stamina and helping the environment, and what on-looker doesn't like that? 
5. Classic Double-Breasted Blue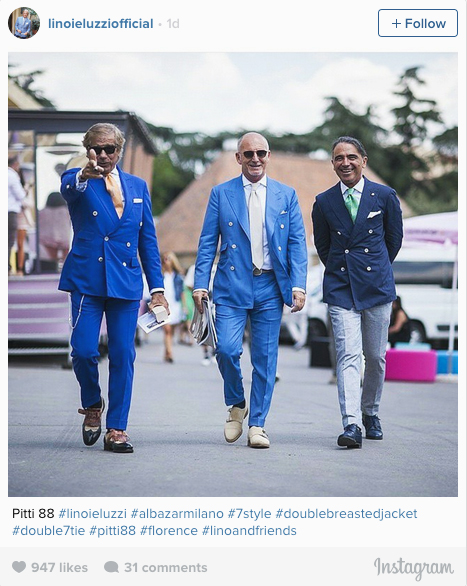 Here's not one, but three ways to wear a well-fitted double-breasted blue suit. Read that again: blue not navy. The trick here is keeping your shirt white and your tie color a sort of faded neutral. And don't forget to smile.
6. Surprising Seersucker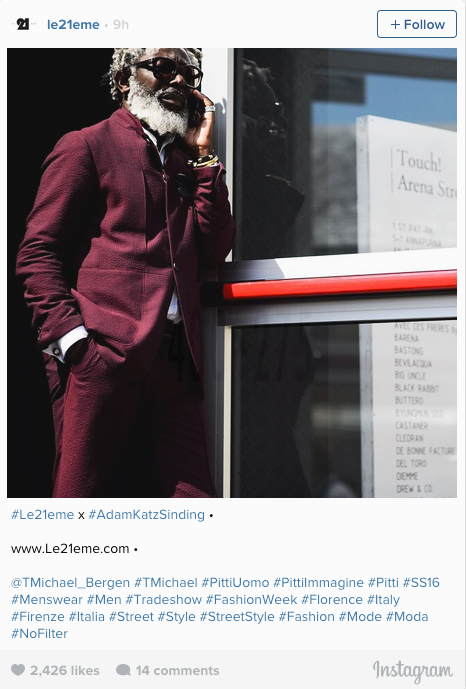 Most people associate seersucker with the traditional white and blue striped suit. But most people aren't as stylish as you. Opt instead for an unexpected color of seersucker, like crimson red, that will definitely capture attention while still keeping you cool.
7. Simple Shades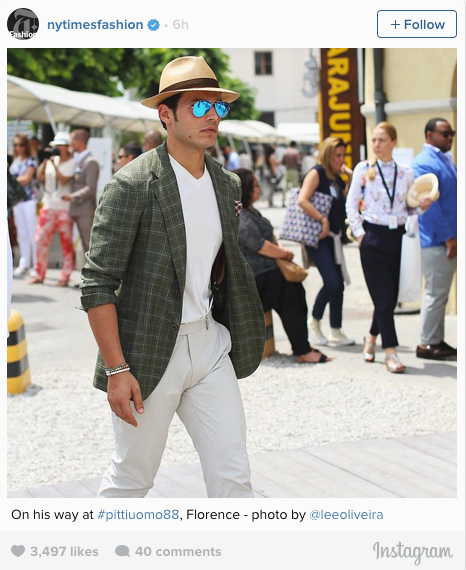 When the rest of your outfit is bold, simple accessories can make or break an outfit. In this case, retro-reflective mirrored shades are working for this stylish fellow. Don't be afraid to try a couple things on. Look for things that initially pop, then fade into the background of your overall look.
8. Punch Up the Ivory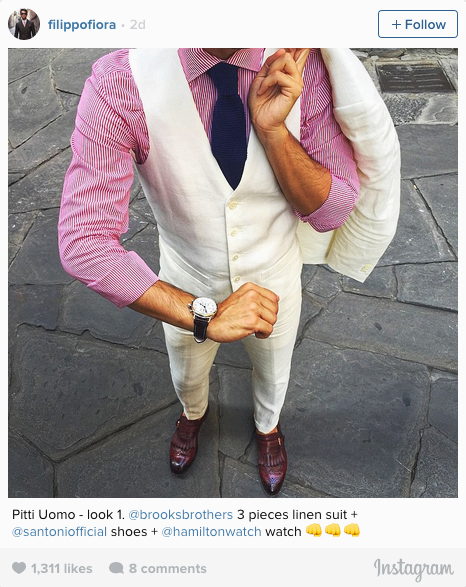 This is the perfect example of how to pull of an ivory white suit—by adding a punch of color via your shirt and tie. @FlippoFiora opted for a French bengal striped shirt and solid knit tie. It's Italian dandy, done right.
9. Garden Party Hats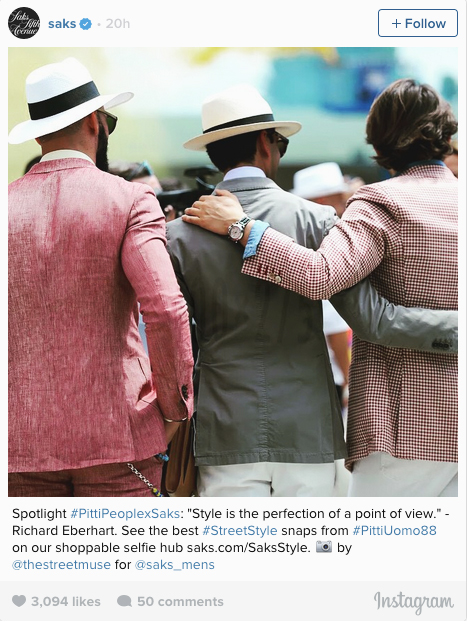 This one is tricky, as you don't want to look like an extra from Great Gatsby during your day party in The Hamptons, but if you're feeling funky, embrace the hat. It can provide just the right Italo Dandy X-factor to set you apart. Just be honest with yourself: if it takes your entire outfit over the top, take it off. (You'll know.)    
Moti Ankari is the associate market editor for Bloomberg. Follow him on Twitter and Instagram Instagram or contact him at mankari@bloomberg.net.
Before it's here, it's on the Bloomberg Terminal.
LEARN MORE