Only Lincoln Chafee Knows Which Woman Should Be on the $10 Bill
We asked presidential candidates who they'd like to see on the $10 bill, but it proved to be a tough question to take a position on.
By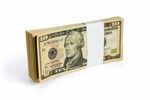 It's not exactly up there with immigration, trade, and abortion for controversy: Treasury Secretary Jacob Lew's announcement earlier this week that a redesigned $10 bill will feature a portrait of a woman is one of the few feel-good stories of the summer. The decision was roundly welcomed. And yet the 2016 presidential candidates are having a hard time taking a stand.
Plenty of names have been floated by advocates agitating for the government to put the face of a woman on paper currency. The organization Women on 20s, through a voting process narrowed the final four to abolitionist leader Harriet Tubman, civil-rights icon Rosa Parks, Cherokee Nation chief Wilma Mankiller, and First Lady Eleanor Roosevelt. (Their primary round included Alice Paul, Betty Friedan, Shirley Chisholm, Sojourner Truth, Rachel Carson, Rosa Parks, Barbara Jordan, Margaret Sanger, Patsy Mink, Clara Barton, Harriet Tubman, Frances Perkins, Susan B. Anthony, Eleanor Roosevelt and Elizabeth Cady Stanton. The group's website offered fifteen, and then another seventy, more.) 
New Hampshire Senator Jeanne Shaheen, who introduced an official Women on the Twenty Act into Congress, last month said she'd love to see a woman who had actually served in government on the bill, and suggested Frances Perkins, the first woman appointed to the U.S. Cabinet and the longest-serving secretary of labor. But the nation's would-be leaders refused to pick—perhaps because each has his or her own constituency.
Of a considerable slate of assumed and declared presidential hopefuls, only one reached by Bloomberg Politics would name a preference: former Rhode Island Senator Lincoln Chafee, who through a representative selected Rachel Carson, the marine biologist whose landmark book Silent Spring did much to advance the environmental movement.
A spokesperson for former Virginia Senator Jim Webb declined to answer, because the candidate was at his daughter's graduation, but offered the following:  "As a very proud Dad of his daughter graduating high school today I'd guess he would put her on the bill."
And that was, more or less, it.  A representative for New Jersey Governor Chris Christie replied, "Thanks for reaching out.  I won't have a response in time for your deadline, but thank you again for the opportunity." (Bloomberg had not specified a particular deadline.) A spokesperson for Donald Trump expressed thanks for "offering to include us," but said "we will pass on this one." Same from Kentucky Senator Rand Paul's campaign: "We'll pass. Thanks." 
Bloomberg did not hear back from representatives for former Florida Governor Jeb Bush, former Arkansas Governor Mike Huckabee, Senator Ted Cruz, Wisconsin Governor Scott Walker—or even Carly Fiorina, whose campaign has made so much of gender and the importance of boosting women.
What about the woman who seems closest to becoming the first American woman president, former Secretary of State Hillary Clinton?
A Clinton spokesperson, after a day-long waiting period, sent the following statement to Bloomberg:
Putting a woman on the $10 bill is a long overdue step toward recognizing the tremendous impact women have had on the history of our country. We're looking forward to seeing which woman is selected by U.S. Department of Treasury – but there's no doubt that they have a long list to choose from.
That's it? The woman hoping to run the country, who has articulated her admiration for Eleanor Roosevelt and Rosa Parks, to name just two, replies: Let's leave it to a man.
Good luck with that, Mr. Lew.