Only Lincoln Chafee Knows Which Woman Should Be on the $10 Bill
We asked presidential candidates who they'd like to see on the $10 bill, but it proved to be a tough question to take a position on.
By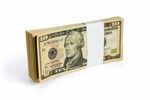 It's not exactly up there with immigration, trade, and abortion for controversy: Treasury Secretary Jacob Lew's announcement earlier this week that a redesigned $10 bill will feature a portrait of a woman is one of the few feel-good stories of the summer. The decision was roundly welcomed. And yet the 2016 presidential candidates are having a hard time taking a stand.