Obama Defends His Gun Control Stance in Speech to Mayors
Justin Sink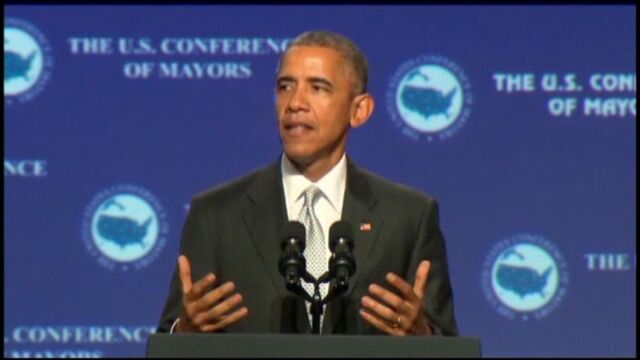 President Barack Obama said gun violence is exacting a heavy toll on the U.S. and the public must demand action by Congress, including steps to curtail easy access to firearms.
Obama said Friday he has not given up on the ideas he proposed after the 2012 massacre of 20 school children in Connecticut, which he said were not a "wild-eyed plot" to confiscate guns. He said his remarks on Thursday that acknowledged there is little likelihood gun-control measures would pass Congress were misinterpreted.
"I am not resigned," he said to the U.S. Conference of Mayors meeting in San Francisco. "I have faith that eventually we will do the right thing."
Obama said the entire country was "shocked and heartbroken" by the murders of nine people at the predominately black Emanuel AME Church in Charleston, South Carolina, on Wednesday night. A 21-year-old white man, Dylann Storm Roof, has been charged in the killings.
The shooting is being investigated by the U.S. Justice Department as a possible hate crime and act of terrorism.
"These tragedies have become far too commonplace," Obama told the mayors.
2013 Proposals
There were more than 11,000 people killed by gun violence in the U.S. in 2013, he said. The measures he proposed in 2013 - - among them, requiring background checks for all sales, reinstating a ban on military-style semi-automatic rifles and limiting ammunition magazine to 10 rounds -- wouldn't have prevented every shooting or even most, he said.
"We might have stopped one shooter," he said. "Some families might still be home, you all might have to attend fewer funerals."
Obama was unable to win support for even a stripped-down version of his proposal focused on background checks. Although polls at the time showed 90 percent of the U.S. public supported that, opposition from Republicans and some Democrats backed by the National Rifle Association killed the plan.
The NRA, the nation's biggest lobby for gun manufacturers and owners, has consistently fought attempts to restrict firearms.
He rejected criticism from some Republicans and commentators that by raising the issue of gun violence he was politicizing the tragedy in Charleston. The debate must include gun owners as well as those who've never handled a firearm.
"We need a change in attitudes among everybody," he said.