New York Agrees to Port Authority Changes as New Jersey Balks
Freeman Klopott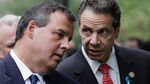 A measure to overhaul the troubled Port Authority of New York and New Jersey that's backed by the governors of both states won approval in Albany, though it has little chance of passage in the Garden State.
New York Governor Andrew Cuomo, a Democrat, and lawmakers agreed to pass the bill on Thursday. It calls for creation of a chief executive officer and chief ethics officer and the hiring of an outside firm to assess toll increases. New Jersey Governor Chris Christie, a Republican, said he supported the measure, but Democrats who control the legislature in Trenton balked.
"Any bill we pass has to protect the regional interests of the New Jersey residents," New Jersey Senate Majority Leader Loretta Weinberg said in a statement. "The legislation introduced in Albany explicitly states that a New Yorker must serve as chairman for the first two years."
Changing the bi-state agency requires the legislatures in both states to pass identical bills. Lawmakers, transportation advocates and government watchdog groups have pressed for fundamental changes at the 94-year-old agency since e-mails surfaced last year showing Christie allies helped engineer traffic jams at the George Washington Bridge in a town whose Democratic mayor didn't endorse him.
Without a dissenting vote, legislatures in the two states last year passed a measure that would've limited the governors' sway over the agency, its $7.8 billion budget and more than 7,000 employees. Christie and Cuomo vetoed it on Dec. 27, saying it didn't match a substitute plan they simultaneously put forward.
Weinberg said lawmakers in her state will introduce their own bill and hold hearings -- as opposed to the process in New York, which she said was rushed.