politics
Jeb Bush Emphasizes Anti-Abortion Record as Florida Governor
At conference of conservative voters, the former Florida governor doubles down on an issue where he agrees with them.
By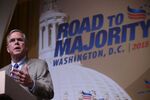 Republican presidential candidate Jeb Bush drew applause from an evangelical crowd Friday when touting anti-abortion measures he enacted as governor of Florida, including parental notice for minors and a ban on "partial-birth abortion."
"We also put the most vulnerable in society at the front of the line, guided by my faith," Bush said at the Faith & Freedom Coalition meeting in Washington. "And we also put the rights of the unborn in the front of the line." 
Bush, whose positions on immigration (he favors a path to legal status for some immigrants in the United States illegally) and education (he favors the national education standards known as the Common Core) have put him out of sync with some of his party's more conservative voters, is placing a heavier emphasis on abortion than some of his rivals for the Republican presidential nomination. He is placing his gubernatorial record front-and-center as he makes his case for the White House.
In 2000, Bush signed measure to ban a late-term abortion procedure. In 2005 he enacted the Parental Notification Act, which mandates that doctors notify parents of a minor at least 48 hours prior to terminating a pregnancy.
"When I became governor I was shocked at the total lack of regulation of abortion clinics, and that parents had no legal role in their minor daughter's abortion decision," he said. "So what we did was we put regulations on abortion clinics. And we narrowed the number of them... I signed into law a partial birth abortion ban." He said he also supported funding for crisis pregnancy centers.

Later Friday, Bush named David James, who served as senior adviser to Mitt Romney's 2008 and 2012 presidential campaigns, as political director, according to The Wall Street Journal. He will oversee voter contact, campaign volunteers, efforts to maximize voter turnout, Bush spokesman Tim Miller told the paper.

Laura Curtis contributed to this article.
Before it's here, it's on the Bloomberg Terminal.
LEARN MORE