business
Hershey Cuts Annual Profit Forecast After China Growth Slows
Craig Giammona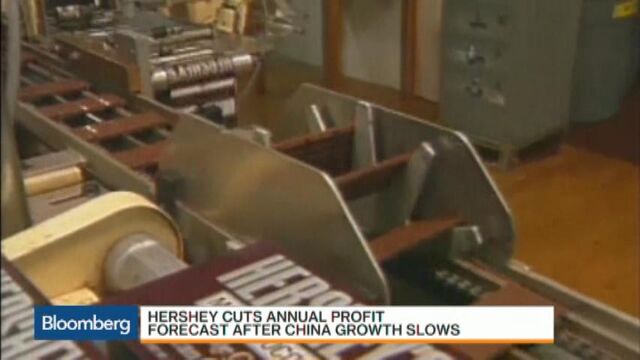 Hershey Co., the maker of Reese's, Twizzlers and Almond Joy candies, is cutting its profit forecast and eliminating 300 jobs after struggling with slowing growth in China.
Earnings per share in 2015 will be $4.10 to $4.18, excluding some items, down from a previous forecast of $4.30 to $4.38, the company said Friday in a statement. Analysts estimated $4.32. Sales this year will rise as much as 5 percent, excluding the effect of unfavorable currency-exchange rates. The company had projected a gain of as much as 7 percent.
Hershey's chocolate sales growth in China trailed its expectations in April and May, hurt by increased competition in the chocolate category and a cooling economy that's restraining consumers' spending. The company said it will focus on gaining distribution in smaller stores and pushing core products and brands that deliver the highest return.
"They haven't been overly successful in terms of getting a handle on local tastes," said Erin Lash, an analyst at Morningstar Inc. who estimates that China accounts for about 5 percent of Hershey's sales. "It's a very difficult undertaking."
Hershey also said it's "moderating" its forecast for sales from Shanghai Golden Monkey Food Joint Stock Co., the privately held candymaker it agreed to acquire in December 2013. Hershey bought 80 percent of the company last year and is scheduled to take the final 20 percent on the one-year anniversary of the initial close. Hershey said it's now working with Shanghai Golden Monkey to "reassess the value of the business."
Shares Fall
Hershey shares fell 3.5 percent to $89.04 at the close in New York. It was the biggest one-day drop in almost five months for Hershey, which has now slipped 14 percent this year.
The job cuts Hershey announced Friday will result in pretax charges of as much as $120 million, or 35 cents a share, mostly in cash and this year. The changes will save $65 million to $75 million before taxes, primarily in 2016.
Along with the cutbacks, Hershey also announced leadership changes. Chief Financial Officer Patricia Little will take on responsibility for mergers and acquisitions, which Hershey said will be "an important driver" of the company's success.
Steve Schiller, a regional president, is taking a new position as president of China and Asia. The company also created a global leadership job focused on expansion in emerging markets and is searching for candidates for the position.
(Updates with closing share price in sixth paragraph.)
Before it's here, it's on the Bloomberg Terminal.
LEARN MORE