ConAgra Shares Jump After Activist Investor Targets Company
Beth Jinks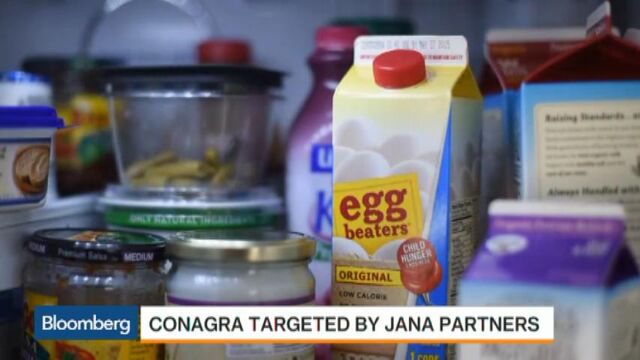 ConAgra Foods Inc. rose the most in more than 25 years after the food company was targeted by activist investor Jana Partners, which is looking to shake up the board following a disappointing acquisition of Ralcorp Holdings Inc.
The stock rose 11 percent to $43.37 in New York, the biggest one-day gain since October 1989. ConAgra shares have climbed 20 percent this year.
Jana, a hedge fund founded by Barry Rosenstein, disclosed a new active stake of about 7.2 percent in ConAgra on Thursday and threatened to nominate three directors. It also asked the company to push back its June 21 deadline for board nominations -- a concession Jana has already won. Shortly after Jana's filing, ConAgra extended that deadline to July 8.
ConAgra's $6.7 billion purchase of Ralcorp in 2013 "has been followed by disappointing performance for stockholders, repeated guidance misses, negative revisions to long-term earnings targets, no dividend per share growth, and operating performance challenges," Jana said in the filing. The hedge fund said it began amassing its stake after ConAgra wrote down the deal by $1.3 billion in March.
Jana is calling on ConAgra to embark on a review of strategy and corporate structure, examine its operational performance and costs, and better manage the way it allocates capital.
Starting Talks
"We welcome shareholder engagement," ConAgra said in a statement. "We look forward to opening discussions with Jana Partners" after ConAgra's fourth-quarter earnings release on June 30.
Before the Ralcorp acquisition, ConAgra was focused on packaged foods with well-known brand names. Its lineup includes Hunt's ketchup, Swiss Miss cocoa and Orville Redenbacher's popcorn. The deal was a bet that Ralcorp's faster-growing private-label business, which sells supermarket brands, would be a good fit for the company.
Instead, ConAgra struggled to combine the two pieces, leading to slumping sales and profit. Chief Executive Officer Gary Rodkin, who orchestrated the Ralcorp transaction, announced last year that he would step down. The company also hasn't increased its dividend since 2012, irking some investors.
ConAgra named the former head of Hillshire Brands Co. as a replacement for Rodkin. Sean Connolly, who led Hillshire Brands until its acquisition by Tyson Foods Inc. last year, officially took the reins in April. He had earlier abandoned an unpopular deal for Hillshire to buy Pinnacle Foods Inc.
ConAgra's "board has failed to adequately address the shareholder value destruction and persistent underperformance that followed the Ralcorp acquisition," Jana said.
Board Candidates
The potential proxy nominees are Rosenstein, Jana's managing partner; Brad Alford, former CEO of Nestle USA; and James Lawrence, former chairman of Rothschild North America and former chief financial officer of both Unilever and General Mills Inc. The activist also hired as a consultant Diane Dietz, Safeway Inc.'s former chief marketing and merchandising officer. The three have bought about $21 million of ConAgra shares between them.
Founded in 2001, Jana has grown to oversee about $11 billion. While most of the hedge fund's investments aren't active -- where it amasses an equity stake to try and cajole executives and directors to make changes to boost shareholder returns -- it's those campaigns that often attract the most attention.
The firm has targeted companies including Qualcomm Inc., Computer Sciences Corp., PetSmart Inc., Walgreen Co., Hertz Global Holdings Inc., Apache Corp., Oil States International Inc. and URS Corp.