Five Things Everyone Will Be Talking About Today
The week isn't over yet, and there's a lot going on
By and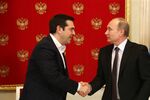 Chinese stocks enter a correction, the ECB holds an emergency meeting and Tsipras meets Putin. Here are some of the things that people are talking about in markets today. 
Chinese stocks meet gravity
After surging over 150 percent in just 12 months, some of the air has come out of China's world beating equity rally. The Shanghai Composite has now fallen over 10 percent from this year's peak, entering a correction and capping off the worst week for the Chinese equity benchmark since 2008. Is a bubble bursting? Blackrock says yes.
Greece stumbles towards default
Immediately after yesterday's meeting of euro-area finance ministers ended without a deal, the blame game began. Eurogroup chief Dijsselbloem went as far as suggesting Greece was moving towards euro exit. Lagarde said she would like to "secure a dialogue with adults in the room." Schaeuble refrained from providing any comment at all. But Tsipras is still confident a deal can be made when officials do it all over again on Monday.
ECB holds emergency meeting
The European Central Bank is said to be holding an emergency session later today to discuss Greek banks. Officials will consider a request from the Bank of Greece to increase emergency liquidity only two days after the ECB increased ELA by a further 1.1 billion euros. A fresh request less than 48 hours later underscores the view that deposit flight continues to accelerate and capital controls may need to be introduced.
Tsipras meets Putin
The government is on the brink of default and Greek banks head a step closer to breaking point but Prime Minister Tsipras is in Russia to meet President Putin. The talks will take place at the St. Petersburg International Economic Forum after Russia signed a preliminary agreement to build a natural-gas pipeline through Greece.
BoJ maintains record stimulus
The Bank of Japan maintained its record stimulus, committing to expand the monetary base at an annual pace of 80 trillion yen. After a confusing fortnight of comments on the exchange rate, Governor Kuroda refrained from commenting on the currency this time around. 
What we've been reading
Here's what caught our eye over the last 24 hours.