U.K. Stock Traders See Rebound as Economy Optimism Trumps Greece
Sofia Horta e Costa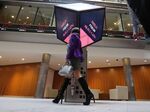 With Greek talks dragging down most of Europe's stock markets, investors have increasingly seen the U.K. as a haven.
Options traders are paying the least ever to hedge against swings in the FTSE 100 Index relative to euro-area shares. While the Greek impasse has helped push U.K. shares to a five-month low this week, investors are preparing for a rebound. An exchange-traded fund tracking the equities received $483 million last week, the most in two years.
A pick-up in the economy is fueling speculation earnings growth will improve. After Prime Minister David Cameron unexpectedly won another term with a majority in parliament, Britain would be basking in post-election optimism if it weren't for Greece, according to Tim Rees at Insight Investment Management in London. The U.K. is also attracting currency traders, with the pound at a seven-month high against the dollar.
"Greece is making everyone nervous, but you would assume that the U.K. is more withdrawn from the issue than the euro zone," said Rees, Insight Investment's U.K. equities director. "The economy is picking up nicely -- unemployment is tumbling and wage growth is showing signs of life. That can hurt the FTSE 100 now because of the pound move, but isn't growth always good?"
U.K. stock investors enjoyed a brief rally after ticking off the country's May election, before they were hit with more politics, from Greece this time. Since its April record, the FTSE 100 has dropped 5.6 percent, less than the 8.5 percent decline in the Euro Stoxx 50 Index.
Bullish Signs
But options data show a more bullish picture. A gauge tracking expected equity swings in the U.K. measure has gained 7.8 percent this month, dwarfed by the 21 percent increase for its euro-area counterpart.
With gross domestic product forecast to rise 2.5 percent this year, the British economy is in better shape than that of its neighbors. Data this week showed better-than-estimated wage growth and retail sales, supporting the view that the recovery is on track.
The positive figures are also sending the pound higher. That's a drawback for stocks such as AstraZeneca Plc and GlaxoSmithKline Plc, which generate most of their revenue overseas. The companies, accounting for about 7 percent of the FTSE 100, have lost more than 9 percent this quarter.
The currency's strength, in addition to a Greece-induced selloff that could continue, may weigh on British shares, according to Stephen Walker, head of equities research at Ashcourt Rowan Plc in London.
Worst Scenario
"Stocks aren't pricing the worst scenario for Greece yet," Walker said. "In the U.K., we also have the stronger economy to deal with and the effect it has on the pound. That could effectively act as a rate hike and eventually limit growth again. It's a double-edged sword."
Guy Foster, the head of research at Brewin Dolphin in London, is bullish on U.K. stocks as the nation's economy improves. Earnings at FTSE 100 companies will grow this year by the most since 2010, according to analyst projections.
"There's an underlying pretty good story for some parts of the U.K. stock market," Foster said. "Once some of the Greek headwinds clear and the data improves, we expect towards the end of the year the market to recover at least the ground it has lost. It makes good sense that the U.K. would be a lower volatility market."
Read this next: