Local Sign Regulations Curbed in U.S. Supreme Court Ruling
Greg Stohr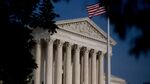 The U.S. Supreme Court curbed the power of governments to enforce sign regulations, striking down a local Arizona law that hindered a small church seeking to direct people to its Sunday services.
The justices unanimously said the Phoenix suburb of Gilbert violated the First Amendment with its ordinance, which barred directional signs from being erected until 12 hours before an event and let them remain only an hour after.
Writing for the court, Justice Clarence Thomas said the town hadn't shown that temporary directional signs posed more of a threat to traffic safety than political or ideological signs.
"If anything, a sharply worded ideological sign seems more likely to distract a driver than a sign directing the public to a nearby church meeting," Thomas wrote.
The Gilbert ordinance limited directional signs to six square feet, a fraction of the 20 square feet permitted for ideological messages and the 32 square feet for political signs.
Three justices disagreed with the majority opinion's reasoning although they concurred that the Gilbert ordinance was unlawful. Those three, led by Elena Kagan, said the majority opinion will endanger a variety of local sign ordinances, including laws that exempt safety signs and historical markers from permit requirements.
The ruling is a victory for the Good News Community Church, which has fewer than 40 worshippers in a given week and periodically moves its location. The church and its pastor said the signs are an essential means of inviting the public to its services.
The case is Reed v. Town of Gilbert, 13-502.