SNB Keeps Record-Low Rate as Jordan Sees Weaker Franc on Horizon
Catherine Bosley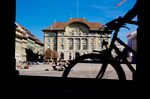 Thomas Jordan gave Switzerland a more upbeat outlook for the franc on Thursday, saying the Swiss National Bank's actions and global developments will weaken the currency over time.
Speaking after officials kept the deposit rate at a record low, the SNB president said negative rates "should help to correct the over-valuation." The central bank scrapped its franc-euro cap five months ago, sending the currency surging to a record, pushing down inflation and weighing on the economy.
"As conditions continue to normalize on international financial markets, investments in other currencies should become more attractive; this, in turn, is likely to help ease the over-valuation," Jordan said in Bern. "The slowdown we are now observing in the economy also suggests that the Swiss franc is very unlikely to remain persistently high."
Swiss consumer prices are falling and the economy is on the verge of its first recession in six years after the SNB abandoned the ceiling of 1.20 per euro in January. Highlighting risks to the economy from the Greek crisis, Jordan said the central bank will maintain its current loose policy and is ready to take further action if needed.
Policy Levels
"Even if the Swiss franc remains overvalued against the euro, it is currently not under strong appreciation pressures, which probably explains why the SNB did not lower policy rates," said Maxime Botteron, an economist at Credit Suisse Group AG in Zurich. "In the event of a catastrophic outcome to Greek debt negotiations, the SNB will probably need some leeway."
In its policy decision, the central bank maintained its rate on sight deposits at minus 0.75 percent, as forecast by economists in Bloomberg survey. It also kept the target range for three-month Libor unchanged at between minus 1.25 percent and minus 0.25 percent. The franc was little changed at 1.0462 per euro as of 11:35 a.m. Zurich time. It rose to a one-month high versus the dollar.
The SNB is ready to buy foreign currency to weaken the franc if necessary, Jordan said in an interview with Bloomberg Television.
"We still have the possibility to intervene in markets, this still is a very strong instrument," he said.
'Rational Markets'
Policy makers have previously indicated they aren't inclined to cut the deposit rate further and are keen to see how their policy feeds through. Jordan echoed that view on Thursday, saying officials will monitor the effects "closely."
The SNB forecast economic growth of just under 1 percent this year, unchanged from its March projection. It said consumer prices will fall 1 percent this year and 0.4 percent in 2016, before rising again in 2017. In March, it projected a 2015 price drop of 1.1 percent.
"Everything speaks for a depreciation because we have a markedly overvalued franc and weakening economic activity," Jordan said in response to questions from reporters at a press conference. "Those are signs that in rationally functioning markets over time a depreciation should occur."
The franc's strength reflects its status as a haven in times of heightened market stress, and Jordan said the appreciation has created an "extremely difficult" situation for exporters. The economy shrank in the three months through March and economists surveyed by Bloomberg predict another contraction this quarter.
"While we recognize the scale of the challenges facing the affected companies, it is worth remembering that in the current climate there is, regrettably, no easy solution that would absorb all external disruptions," he said.