Rand Paul Goes Big To Shrink Taxes
The sweeping plan would provide more money to low-income and high-income earners, but one expert wonders what would be left to pay the Army.
By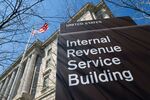 Rand Paul promised to go big on taxes. He did. 
The Kentucky senator's tax plan would scrap much of the U.S. tax system that has developed over the past century. In its place, Paul proposes a tax code that looks like it comes from a different era—and is designed to fund a government that would be much, much smaller. 
He would drive the top income tax rate to its lowest level (14.5 percent) since 1915, repeal the estate tax that began in 1916, toss aside depreciation rules that have developed over 100 years and eliminate a payroll tax that's been in place since 1937. 
In the process, he found a roundabout way to adopt a Democratic proposal for taxing top earners: imposing wage taxes on all income, even above the $118,500 cap where the Social Security payroll tax stops today. That is, however, after Paul dramatically cuts the rates on the rest of their income.
 "This'll be the biggest proposal of any candidate so far,'' Paul said Thursday on Fox and Friends. "Let's have the debate in our country about where money is better spent. Is it better spent by the people who earned it or is it better spent sending it to Washington?'"
Making a splash
Paul's trying to make a splash in a crowded Republican field, full of candidates eager to cut taxes as federal budget deficits shrink. His answer is a giant tax reduction aimed at sparking economic growth combined with significant spending cuts. In the past, Paul has proposed cuts that would affect the military and entitlement programs. Paul's proposal is a "flat tax" in the sense that it has a single income tax rate, replacing the current progressive structure. A true flat tax, as tax nerds define it, would exempt capital gains altogether. Paul's plan would tax capital gains at 14.5 percent; the current top rate is 23.8 percent.
"It is a dramatic and interesting pro-growth proposal, with more detail than others proposing a flat tax," said Douglas Holtz-Eakin, the former Congressional Budget Office director, noting that Paul hasn't specified international tax rules that are important to companies. "Its ultimate success will be driven by the spending side of the budget. Poor trend growth is the most pressing issue, and this focuses directly on growth."
Others sound more cautionary notes. Paul's plan would create a "large, large revenue loss,'' said Alan Viard, a resident scholar at the American Enterprise Institute in Washington. "This is a huge change and people are going to have to decide whether it's good or bad,'' Viard said. "It's structural change on the business side and maybe you could really say on the individual side too.''
The Tax Foundation, a nonprofit that advocates for a simpler tax code and lower tax rates, scored Paul's plan as costing $2.97 trillion in federal revenue over a decade and estimated economic growth would cover two-thirds of the cost.
Bye-bye payroll tax?
One of the most dramatic aspects of Paul's plan: His proposal eliminates the payroll tax. In its place appears Paul's business tax, under which wages wouldn't be deductible and the 14.5 percent tax rate would apply to all wages. The government and nonprofit groups would also have to pay the business tax on their workers' wages, said Michael Schuyler, one of the Tax Foundation analysts who examined the plan.
Economically, that's hardly different from the way the payroll tax works now. Economists assume wage taxes are borne by workers, no matter who formally writes the check to the government. There's one important twist, though. Right now, the payroll tax for Social Security stops after wages reach $118,500 and Democrats have fought unsuccessfully for years to raise that cap. Paul's plan would apply the 14.5 percent tax to all wages.
Paul's business tax is effectively a value-added tax, Viard said. That's the consumption tax system used around the world -- but not in the U.S.
Still,  the impact on the federal treasury would be dramatic.
"It is a hemorrhage," said Chuck Marr, director of federal tax policy at the Center on Budget and Policy Priorities. "I don't know what would be left to pay the Army."
Undercutting Ryan
Paul's proposed single income tax rate is far below the 39.6 percent in current law, the 35 percent proposed by Marco Rubio and the 25 percent sought by House Ways and Means Committee Chairman Paul Ryan. 
The 14.5 percent rate would provide the biggest benefit to high-income wage earners, including corporate executives, athletes and entertainers who earn ordinary income.  Their employers, however, would have to pay the 14.5 percent business tax on their wages, making the real marginal tax rate on income more like 29 percent than 14.5 percent.  
"Distributionally, of course, this would certainly be a larger tax cut at the top,'" Viard said.
The Tax Foundation analysis, which Schuyler said was developed with the Paul campaign's input, assumes a $15,000 per-person standard deduction and a $5,000 personal exemption. That effectively exempts the first $50,000 of income from a family of four from the income tax.
The plan retains current retirement savings incentives, the earned income tax  credit and the exclusion from income of employer-provided health insurance.
The 2016 presidential candidates have offered a host of bold tax plans Ben Carson has talked about a 10 percent tax rate. Mike Huckabee is still championing a national sales tax. One of Ted Cruz's favorite applause lines is about filing taxes on a postcard. Compared to some of his rival's plans, Paul's is more sweeping in some ways, and, in others, less transformative. Rubio's plan, for instance, calls for eliminating the capital gains tax. Paul doesn't. He also retains tax breaks for mortgage interest and charitable contributions.