Five Ways Cities Must Prepare for Tomorrow
Living and working in the cities of the future isn't going to be easy.
By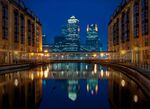 Cities need to change to survive. That's a key takeaway from a London meeting of strategists, business leaders, tech entrepreneurs and policy makers.
Planners need to improve health, sustainability and transport, according to experts at the Smarter Cities conference at Bloomberg's European headquarters, one of the headline events in London Technology Week.
They told us their priorities for safer and smarter urban living.
Keep data protected from attack
"It's not if you're going to be hacked, it's when.
"This idea that you can buy some magical software that will protect you from attacks is an illusion. You need to be prepared for when it happens."
– Justin Lyon, CEO and founder, Simudyne
"The only way you can prevent damage from hacking is encryption."
"The solution for the future is moving from a centralized system into one where the security is in the objects that realize they're being attacked."
– Carlos Moreira, Chairman, Chief Executive and Founder, WISeKey
"We don't understand all the risk we have in this world. We just have to live in it."
 – Nick Trim, Commercial Director, Darktrace
Emissions, efficiency and energy
"We've been anything but smart in how we've dealt with energy.
"Let's do away with kilowatt-hours. We need to show people what they can do with concrete examples – how much does it cost to keep their fridge running or how much can be saved by reducing the temperature by one degree."
– Kassir Hussain, Director of Connected Homes, British Gas
 "The future of cities' energy is not going to be dependent on backup diesel generators."
– David Hill, Business Development Director, Open Energi
 "Nation states can't solve problems together. What unites cities is much greater than what divides them."
– Kevin Austin, Deputy Executive Director, C40
Get media right – go digital
"We're in the middle of a very significant transition in the medium as we go digital. It's very hard to predict which city is going to be at the forefront."
– William Eccleshare, Chairman and CEO of Clear Channel International
Growth and infrastructure
"Success in this city isn't going to be us strolling in spacious streets. The success is that the transportation system isn't going to be a constraint on growth."
– Will Judge, Head of Urban Mobility, Mastercard Enterprise Partnerships
Keep data open
"People have different preferences, some want to get there fastest, others want the most comfortable route. I don't want to guess people's preferences, I want to get the data out there so that smart people can build on it."
– Matthew Hudson, Head of Business Development, Transport for London
 "There needs to be more transparency and data so that customers know what services they have access to."
– Omid Ashtari, General Manager, Citymapper