Greece Stumbling Toward Euro Exit as Meeting Ends in Rancor
Corina Ruhe, Stephanie Bodoni and Rebecca Christie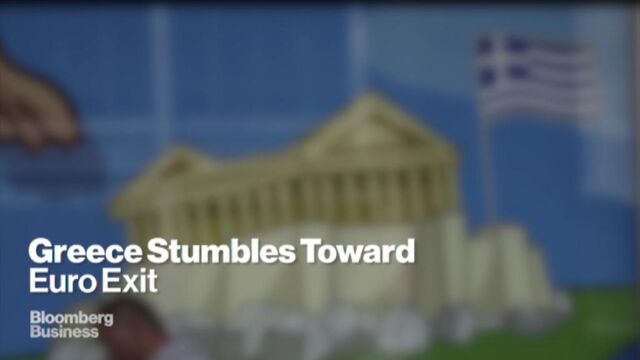 Greece lurched closer to an exit from the euro as a meeting of finance officials to reach a deal over aid ended in frustration, forcing leaders to call for an emergency summit for Monday.
As the European Central Bank prepared for its own emergency session on Friday, thousands of Greeks piled outside parliament in Athens last night asking for the nation to be saved. Prime Minister Alexis Tsipras's government blamed a conspiracy to blackmail Greece for the breakdown in talks, while the premier said an agreement would still be reached.
"Those who bank on crisis and terror scenarios will be proven wrong," he said in an e-mailed statement on Friday.
With the specter of capital controls looming, key players deciding Greece's fate voiced their exasperation with Greece's top negotiators while the silence of others, such as German Finance Minister Wolfgang Schaeuble, also spoke volumes.
"The key emergency is to secure a dialogue with adults in the room," International Monetary Fund Managing Director Christine Lagarde said after listening to Greek Finance Minister Yanis Varoufakis expound in Luxembourg on Thursday. "What we lack is a dialogue."
'Parasitic Behavior'

Greece was working toward a "good agreement," but any deal had to be based on reforms that "attack parasitic, rent-seeking behavior" and not changes that "jack up tax rates and reduces benefits to the weakest," he said in a blog post after the meeting.
Greece and its creditors -- the ECB, the IMF, and the European Commission -- seem further apart than ever after four hours of closed-door talks. Without a settlement, the ties still binding Greece to the currency bloc may begin to unravel with funding keeping Greek banks afloat under scrutiny.
"The extreme economic uncertainty coupled with fears of currency change have driven withdrawals to unprecedented levels, wiping in four days the cushion of about 3 billion euros of the Greek banking system," said Nicholas Economides, professor of economics at New York University's Stern School of Business.
Asked if he could imagine Greece being forced out of the euro, Jeroen Dijsselbloem, the Dutch minister who leads the group of euro-area finance chiefs, said: "The way it goes now we're going in that direction."
Asian Stocks
The Athens Stock Exchange, among the year's worst performers, plunged this week to its lowest level in almost three years.
With no signs of a "Hallelujah" moment the risk of a default has surged to about 75 percent, from 50 percent a month ago, said Stephanie Flanders, chief market strategist for the U.K. and Europe for J.P. Morgan Asset Management.
"The reality is that the solvency of the Greek banking system is utterly dependent on the stance of the ECB," Flanders wrote in a note.
Deutsche Bank strategist Craig Nicol told his clients that an announcement of capital controls in Greece is drawing ever closer with each passing day.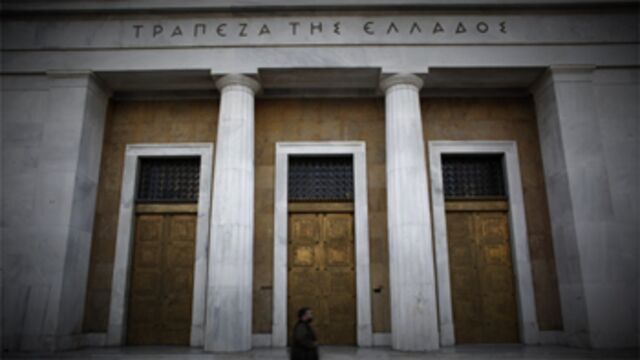 Still, investors have come to the conclusion that a Greek default would probably not have a significant impact on markets, said Adrian Mowat, the Hong Kong-based chief Asian and emerging-market equity strategist at JPMorgan Chase & Co.
'Tiny' Exposure
"When you look at the situation, and add up the European commercial banks' exposure to Greece, it is tiny relative to their assets," he said on Bloomberg Television.
German government bonds rose on Friday, boosted by demand for haven assets. German 10-year bund yields fell three basis points, or 0.03 percentage point, to 0.78 percent as of 7:47 a.m. London time.
Spain's 10-year bond yield rose five basis points to 2.33 percent, eight basis points higher this week, and up from 1.47 percent at the end of April. The yield on Italian 10-year bonds rose four basis points to 2.34 percent.
For Tsipras, there are immediate repercussions. While Greece still has 12 days left before the bailout window shuts, the need for some parliaments to sign off on any agreement the ministers can broker means it's already too late for them to access aid in time to pay the IMF about 1.5 billion euros ($1.7 billion) at the end of the month, according to Dijsselbloem.
"Let's say that we do reach an agreement; it's unthinkable that the implementation and then disbursement will also have to take place before the end of the month," Dijsselbloem said. "That is simply impossible."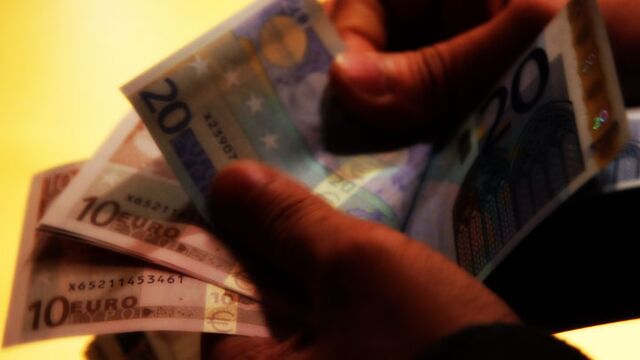 To get its hands on some money, Greece will now look to extract am extension of its bailout agreement at a June 22 summit that will put Tsipras and Germany's Angela Merkel, who has tried to smooth out tensions, in the same room. That EU meeting will start at 7 p.m. in Brussels.
Increasingly isolated among his European peers, Tsipras was in St. Petersburg to meet Russian President Vladimir Putin though there was little sign any financial help would come out of it. Economy Minister Alexei Ulyukayev said Russia wasn't ready to buy Greece's debt or bonds.
The gathering in Luxembourg highlighted the disconnect between what the Greek leadership sees as its truth -- vulturous creditors out to squeeze a small, vulnerable country -- and what the rest of the euro members say is the reality: Without further belt-tightening, it's over for Greece.
"We have come pretty much to a dead end," Finnish Finance Minister Alexander Stubb said on Thursday.
The problem is, as the Maltese Finance Minister Edward Scicluna put it, that nobody "wants to pull the plug."
Read this next:
Before it's here, it's on the Bloomberg Terminal.
LEARN MORE