Adventure
Essay: Searching for Jim Harrison and the Montana of Legends of the Fall
A young writer travels to Montana to search for his hero, and ends up finding himself
By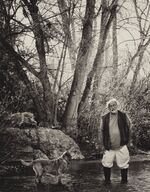 In 2008, I had just begun inching toward a writing career when, after a year in graduate school, I quit to go work for a well-paying online startup in New York. In just months, I was let go. I was six months shy of 30.
My then-girlfriend greeted this sudden windfall of free time with an ultimatum: "Either you go—or I do." She meant Montana, about which she'd endured years of moaning. Fifteen years before, as an unsettled immigrant kid in suburban New Jersey, I'd been mesmerized by Jim Harrison's novella Legends of the Fall. Set in the early 20th century in central Montana, it tells the story of wild Tristan Ludlow and how he doomed the people he loved. I wanted to write like Harrison, be like Tristan Ludlow, and live in a place like that. This fantasy didn't square with a Russian family's plans for its only child, so it stayed unrequited.

"While you're out there," my girlfriend went on, "you should find Jim." I laughed—I was going to show up on the man's doorstep and ask what I should do with my life? I didn't even know where he lived. She shrugged in that way that always seemed to me so enviably American: You'll figure it out. I set off on a crisp September morning with no plan for the first time in my life. I'd never driven west of New Jersey.
The road rewards the prepared but reserves a soft spot for the utterly not. In Michigan's Upper Peninsula, where many of Harrison's other novels are set, I came across people who knew how to reach him. By the time I entered Wisconsin and cell service, I had two messages:
"Hey, Boris—you're the kind of scumbag that calls somebody on his cell phone and then doesn't answer yourself! Well, f--- you! Jim Harrison." … "Hey, Boris—Jim. Forget my message. I left it after I had some martinis."
A solo journey, for all its mystique, is also relentless and lonely, and my periodic phone conversations with Jim helped shorten the way west. He told me about a pair of Russian legs he knew once and also about an Italian sandwich shop in Butte, Mont., that I'd be foolish to miss. I reached him in Livingston, an hour north of Yellowstone National Park. The sky was malignantly violet with an oncoming storm, and lemon-colored aspens studded the fir-covered mountainside like gold fillings.

It's one of those towns that people hesitate to tell you about, because its kind of magic feels endangered. That it's in some of America's most spellbinding country—the Gallatin and Absaroka ranges to the south, the Crazy Mountains to the north—is only part of the reason. There's second-home money here but also many working-class people, and the two tiers mingle not only on the street, as the rich and regular do in New York, but socially, too. Someone once told me that Livingston has the same number of churches as bars.

One of my mornings there, I ate next to a house painter who said he was reading the great Soviet dissident Aleksandr Solzhenitsyn. In this part of Montana, you meet people who don't fit into the categories you bring from New York—conservationist hunters, liberals opposed to big government, manual laborers who can quote The Gulag Archipelago. Harrison's fiction is full of men who know who Modigliani is but also how to cut someone's throat; now I understood where he got them.
I found Jim at the bar of the Murray Hotel, where Sam Peckinpah once shot up the ceiling when he was having trouble with a screenplay. I was so nervous that I hugged the great bulk of him. Vodka to vodka, we made plans for a dinner at his home the following day.
It took me 45 minutes to drive the 9 miles from the Murray to Jim's house, though the speed limit is 70. I kept having to pull over, because I'd never been in that kind of cathedral. Jim's wife, Linda, prepared a pot roast with carrots, potatoes, and onions from her garden, while Jim drove me around with a cigarette and a tumbler of red wine bouncing on the armrest between us. We idled to look at a ridge of hard, ochre peaks and talked about writing, women, and the surreal splendor around us.
At dinner, Jim ladled the gravy off the pot roast with such vigor that every swishing spoonful contributed some to his shirt. I watched the clock move toward my departure time and finally blurted out the question that had vexed me for years: "Why do we forgive Tristan Ludlow?" Jim thought about it. "Tristan is ungovernable," he said. "He could be no one else. Just as I couldn't have been anything other than a writer." As I walked out, Jim took me by the shoulders and recited some lines from a poem by Louis Simpson. "Be true / to your own strange kind."

I go back to western Montana almost every year. Usually, I find a new place I don't want to tell people about. Cooke City, which has no stoplights, cell service, or law enforcement, but locavore values that put New York to shame. (Its residents build kitchen cabinets from their walnut trees and drink beer from keg systems at home because the nearest recycling is three hours away.) Polebridge, which has all of one saloon and one general store—neither possible to patronize without making a friend—but also the least-traveled part of Glacier National Park in its backyard. Flathead Lake, almost the length of two marathons and as clear as a glass of mountain water, where you never need more than two hands to count the bodies on its pebbly beaches.
Each time, I think back to that first visit. In a place so uninhabited, I was able to imagine being more needed than in New York, the capital of disposable writers. I felt elevated, rather than diminished, by the mountains. America has mostly dispensed with its myths about the West, but as a recent immigrant, I responded to it in the 19th century way, as a land to start again, where I found the confidence to return to my calling. "For West is where we all plan to go some day," Robert Penn Warren writes in All the King's Men. "It is where you go to grow up with the country."
Boris Fishman is the author of A Replacement Life. His second novel, out next year, is called Don't Let My Baby Do Rodeo. It's about a boy from Montana who turns out to be wild. Follow him on Twitter.
Before it's here, it's on the Bloomberg Terminal.
LEARN MORE