Airbus Bounces Back in Paris With Wizz Order to Claim Show Crown
Andrea Rothman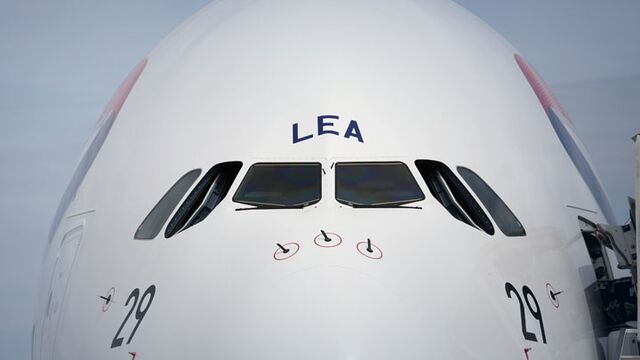 Just as it looked like Boeing Co. had trumped Airbus Group SE in orders at the Paris Air Show, the European manufacturer bounced back on the last day with its final sales stunt.
The ink on the contract barely dry -- the accord was signed just 10 minutes before it was revealed -- the planemaker announced an accord valued at $12.5 billion for 110 A321neo aircraft from Hungarian low-cost specialist Wizz Air Holdings Ltd. That last deal pushed Airbus's tally to $57 billion, allowing it to shoot past Boeing's $50.2 billion haul.
The late comeback was vintage Airbus, whose chief salesman John Leahy has built his three-decade reputation on his ability to produce surprise sales and turn around the duopoly's horse race at air shows. While the bulk of deals announced in Paris were non-firm memorandums, Airbus Chief Executive Officer Fabrice Bregier said he expects almost all of them will get converted into firm orders, helping Airbus at least meet its target of 630 purchases for all of 2015.
"It's higher than I expected personally," Bregier said of the Paris show haul, quipping that "my mistake at the beginning of the show was that I didn't put enough pressure on John."
Bulging Backlog
With a total of 421 aircraft ordered at the event for Airbus alone, the two leading manufacturers now face the challenge of being able to work through their bulging backlogs. Boeing said it won deals for 331 aircraft.
Airbus reiterated today that it wants to increase output of its successful single-aisle jet to as many as 63 a month, and that it can sustain the monthly production rate of its A330 wide-body jet after it won a boost from an order for 30 planes from Saudi Arabia at the show.
Boeing, which didn't announce any orders on the last day, had been ahead of its perennial European rival on the first three days of the show. Marquee deals included 100 737 Max 8 aircraft from leasing company Aercap Holdings NV, and purchases from PT Garuda Indonesia, which also agreed to buy Airbus wide-body airliners.
One plane that remained absent in the crop of orders was the Airbus A380 double-decker, while Boeing managed a surprise win selling 20 of its 747-8 jumbos to a Russian freighter specialist. Leahy said he's in active discussions with several customers and expects to announce deals before the end of 2015, with a potential for 25 orders this year.
While Emirates, the biggest buyer of the A380, has pushed Airbus to add new engines, Bregier said there is "no time constraint" to act and that the company wants to maintain its break-even target on production first. Airbus has struggled to sign up new buyers for its largest jet, with no new airline order in more than two years.
Bad Timing
"We probably launched the A380 a bit too early, we were probably ahead in what the market needs," Bregier said, adding that with air travel quadrupling between 2000 and 2030, he's optimistic the A380 will establish itself in global fleets.
Single-aisle planes, the most widely flown category in commercial aviation, remained the most sought-after aircraft type at the show. With the Wizz announcement, Airbus now has more than 4,000 orders for its A320neo family with upgraded engines, after deciding on the program at the end of 2010. Boeing has about 1,000 fewer for its 737 Max product.
Even as Leahy, who turns 65 in August, has passed the typical retirement age for workers in France, Bregier quipped that his sales maestro can easily pull off another few years.
"In the U.S., there are bus drivers who are 80 and still work," Bregier said. "So you will retire in the next 15 years."
For more on the 2015 Paris Air Show, go here: Special Report