Venezuela at Risk of a Solvency Surprise, Loomis's Rolley Says
Hema Parmar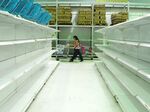 Venezuela may see a forced restructuring of its domestic debt, potentially in the next year or so, said David Rolley, co-head of global fixed income at Loomis Sayles.
"The most problematic sovereign in South America today is Venezuela," Rolley said in a June 9 interview with Bloomberg Brief. "I think that there is a non-trivial risk of a solvency surprise."
Historically when domestic inflation accelerates past 100 percent, it results in a forced domestic debt restructuring, after which external debt often is at risk too, Rolley said. Venezuela has the world's fastest inflation rate at 69 percent as it was last reported by the government in December. While economists surveyed by Bloomberg estimate prices may rise 85.4 percent in 2015, Bank of America co-head of global economics research Alberto Ades in an April interview on "Bloomberg Surveillance" said it could be close to 200 percent.
Soaring inflation "suggests that the government is using the inflation tax to fund itself," Rolley said. "If that's the case, then you're talking about structural budget problems that probably can't be handled in a very simple way with modest tax hikes and spending cuts. That implies a real risk to debt service."
It may also have political repercussions. If the nation cannot meet even the needs of its own population, voters may frown upon the government prioritizing the debt of foreign creditors, Rolley added.
Risks, Opportunities
Additionally, he also sees the Venezuelan bolivar as one of the main currency risks in the region. After weakening beyond 300 per dollar on May 13, the bolivar has plunged to trade at 429 per dollar on Tuesday according to dolartoday.com, a website that tracks the rate on the Colombian border. That's 68 times the primary official rate of 6.3 bolivars per dollar.
Elsewhere in the region, Rolley said he sees opportunities in relation to Brazil's real and Mexico's peso, though the timing in each case remained unclear.
"The underlying economic stories are actually quite solid if you think out more than a year," Rolley said. "You have substantial liquidity and so these are real economies."
At the same time, Brazil may miss its primary surplus target of 1.1 percent of gross domestic product for this year, according to Rolley.
"It'll get close. It may not meet it entirely," he said. "Policy is moving in the right direction. You typically get some slippage in targets when you slow down the economy and I'm afraid they pretty much were forced to do that. It wouldn't be shocking to see a miss on the targets."