Traders Look to Yellen to Reinvigorate U.S. Dollar
Andrea Wong and David Goodman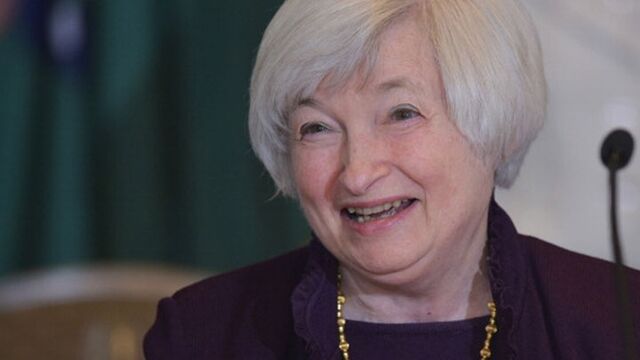 The dollar rose before Federal Reserve Chair Janet Yellen and policy makers conclude a meeting that will offer investors more clues on the timing of interest-rate increases.
The U.S. currency has slumped this month as investors watch for signs the Fed remains on track for its first rate increase since 2006. While futures traders are certain the Fed will leave its key rate at virtually zero Tuesday, policy makers will present forecasts for borrowing costs and Yellen holds a news conference.
"I doubt Yellen will want to rock the boat too much, but the case is different from the March meeting -- U.S. data looks better, inflation, employment costs look better," Valentin Marinov, head of Group-of-10 currency research at Credit Agricole SA's corporate and investment-banking unit in London, said by phone. "Yellen will stress that any potential rate hike later this year will be a cautious first step."
The dollar gained 0.7 percent to 124.27 yen as of 12:03 p.m. New York time. It was little changed at $1.1243 per euro.
Bloomberg's Dollar Spot Index, which tracks the greenback against the currencies of 10 major trading partners, added 0.2 percent to 1,177.34. A 21 percent nine-month rally has waned since March 13.
Forecasts Downgraded
The dots representing the individual interest-rate forecasts of policy makers at the meeting of the rate-setting Federal Open Market Committee, are plotted on a graph. The most recent dot plot, from the Fed's March 17-18 meeting, revealed that members had downgraded their forecasts for how quickly the central bank would be able to increase borrowing costs.
The March revision cut the median year-end 2015 rate forecast to 0.625 percent from 1.125 percent. The 2016 projection was cut to 1.875 percent from 2.5 percent and the 2017 estimate was cut to 3.125 percent from 3.625 percent.
Hedge funds are sitting on biggest yen-short position in eight years. The net yen-short position of leveraged funds has risen fourfold since the last Fed meeting, standing at 116,294 contracts as of June 9, up from 26,227 on April 28, according to Commodity Futures Trading Commission data.
"We are seeing some short-term volatility trading, but real flows and positioning are waiting for the Fed," said Peter Rosenstreich, head of market strategy at Swissquote Bank SA in Gland, Switzerland. "We anticipate a slightly more hawkish and optimistic Fed, with wording that skews expectation further to September."