Permira Returns $6 Billion to Clients as LBO Prices High
Kiel Porter and Devin Banerjee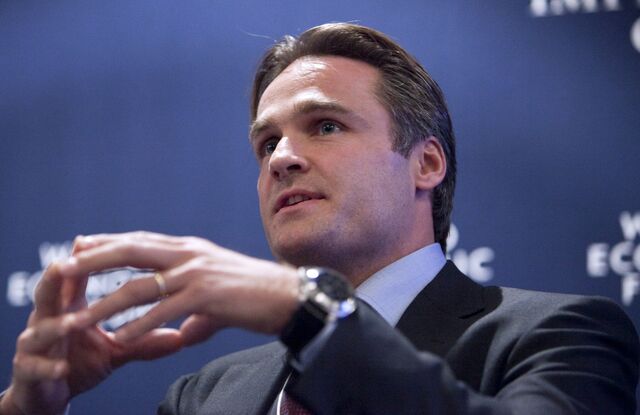 Permira Advisers, one of Europe's biggest private equity firms, returned 5.5 billion euros ($6.2 billion) in proceeds to clients during the past 12 months as it took advantage of strong markets to sell assets.
"If you look at the last year, it would be hard for us to replicate across the business what we've accomplished in the following 12 months in terms of exits," Tom Lister, one of the London-based firm's two managing partners, said in an interview.
Permira, which was founded in 1985 and traces its origins to investment bank Schroders Plc, has produced 23 percent annualized returns after fees, according to an investor presentation obtained by Bloomberg. That exceeds private equity returns at the largest firms, Blackstone Group LP and Carlyle Group LP. Permira is investing 5.3 billion euros that it finished raising last year for a fifth buyout fund.
While Lister said the investment environment is challenging amid high prices, Permira has deployed 55 percent of the fund in companies such as LegalZoom.com, Pantheon Healthcare Group and Informatica Corp., which it's taking private in a $5.3 billion transaction, the largest leveraged buyout this year.
"We are highly conscious of pricing escalation, which has been helped by a buoyant credit market," Kurt Bjorklund, Permira's managing partner with Lister, said in the interview, adding that the firm's dealmakers have to be "disciplined and creative" to find profitable investments.
Hugo Boss
Permira's biggest exits in the past year, according to the client presentation, have included the sale of its stake in clothing retailer Hugo Boss AG, which netted a 1.4 billion euro profit; its sale of chemical maker Arysta LifeScience Corp., which returned at least 1.7 times Permira's money; and the sale of Freescale Semiconductor Ltd., which returned 1.4 times the firm's investment.
In April, it agreed to sell Iglo Foods Holdings Ltd., Europe's largest branded frozen-food company, to Nomad Holdings for 2.6 billion euros.
Permira, like global competitors such as Blackstone and KKR & Co., is also expanding its credit business as traditional banking lenders pull back. Permira Debt Managers, run by James Greenwood, started in 2007 and is gathering commitments for a second direct lending fund while planning a new structured credit fund, according to the presentation.
"James has done a terrific job through a very difficult initial period," Lister said, referring to the financial crisis. "We now have a really good alpha business in Europe."
Private equity firms pool money from investors including pension plans and endowments with a mandate to buy companies within about five to six years, then sell them and return the funds with a profit in a cycle lasting about 10 years.
Before it's here, it's on the Bloomberg Terminal.
LEARN MORE