business
The Google Search That's Smoking Hot in Dollar-Starved Argentina
Camila Russo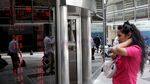 Argentines are more obsessed with the dollar than ever.
Or at least since 2004, when Google began tracking the search data. People in the South American nation are entering the word "dolar" -- Spanish for dollar, of course -- in Google's search engine at an unprecedented clip.
So while the country's currency market seems calm on the surface -- under the grip of tight government controls -- there is growing angst among Argentines about how to get their hands on dollars and whether to buy them before or after October presidential elections. While people from no other nation search for the word more than Argentines, it's no surprise that Venezuelans rank second. There, dollars are so hard to get at the official exchange rate that greenbacks fetch 60 times more in the black market.
"You need consistent measures to rebuild people's trust in the local currencies," said Ezequiel Aguirre, a New York-based strategist at Bank of America Corp. who grew up in Buenos Aires. "Currency controls work directly against that."
All the searching for dollars points to the fixation in Argentina and Venezuela with getting hard assets and the efforts people are willing to undertake to preserve their savings, driven by double-digit inflation and past devaluations.
In Argentina, those with sufficient income can buy as much as $2,000 a month at the official rate, though they have to pay a 20 percent tax to keep the money in cash. Argentines have purchased a total of $5.6 billion since they were allowed to buy dollars for savings in January 2014.
6% Depreciation
Otherwise, the alternatives are finding illegal street dealers or using a brokerage to engage in an elaborate securities swap that results in the dollar costing 40 percent more than the official exchange rate.
In the black market, the currency has declined 9 percent this year to 12.8 per dollar, while in the official market the peso depreciated 6 percent to about 9 per dollar, the biggest slide in Latin America after Brazil's real.
The situation is similar in Venezuela, where the official rate of 6.3 bolivars per dollar is only available for imports of basics like rice and flour. To get dollars for savings amid annual inflation estimated at more than 100 percent, ordinary Venezuelans pay about 400 bolivars to illegal street dealers.
Argentines' dollar fetish stems from decades of surging consumer prices that have lead to a series of currency devaluations. Inflation averaged 25 percent annually in the past five years while the peso lost more than half its value.
Google's data on "dolar" searches reflects trends in frequency and overall popularity. While the data is global, zeroing in on the word "dolar" limits the practical scope to Spanish- and Portuguese-speaking users. Still, Argentina is only the fourth-most populous country where Spanish is the primary language, and Venezuela is sixth.
The search-engine company measures search volumes relative to the country where a particular term is most popular. So for "dolar," Argentina gets a rating of 100, while Venezuela comes next with 75. Brazil, with an economy that's almost four times the size of Argentina's but with freer access to dollars, came in eighth place with a score of 27.
Before it's here, it's on the Bloomberg Terminal.
LEARN MORE