What if Bernie Sanders Pulls A Eugene McCarthy?
Why you should never underestimate lefty iconoclasts in the presidential race.
By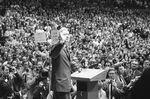 A white-haired senator from a Frost Belt state, a one-time writer with a social-justice streak, an unlikely yet powerful energizer of young people. This year, it's Bernie Sanders of Vermont. In 1968, it was Eugene McCarthy of Minnesota.
Sanders's bid for the Democratic presidential nomination may seem quixotic, even to him. "We are the underdog," he told Bloomberg's Al Hunt in an interview last week on PBS' Charlie Rose program. After all, he is a self-identified socialist who once worked to uproot the two-party system and, who, some decades ago, bought 85 acres in rural Vermont and converted an old maple-sugar house without electricity or running water into a cabin. He emits monster growls with the air of a frazzled grandpa; he has explored gender politics via comparative rape fantasies. In an America that prefers its politicians Brylcreemed and blow-dried, Sanders seems unlikely to succeed.
Yet history suggests that unorthodox Pied Pipers have a way of upending conventional wisdom. In 1968, Senator Eugene McCarthy launched what the St. Petersburg Times called a "Vietnam peace candidacy," as a protest of then-President Lyndon B. Johnson's continuation of the war in Southeast Asia.

In the New Hampshire primary, the nation's first, McCarthy wound up winning 42 percent of the vote against the sitting president. This triggered another challenge to Johnson from Robert F. Kennedy, then a New York senator.
Weeks after his Granite State humiliation, Johnson announced that he would not seek his party's nomination for a second full term. "Abdication was thus the last remaining way to restore control, to turn rout into dignity, collapse into order," presidential historian Doris Kearns Goodwin wrote in her biography of Johnson. 
Could Sanders, running a similarly laser-focused campaign on economic inequality, turn out to be the Gene McCarthy of 2016?  In a Bloomberg Politics/Des Moines Register Iowa Poll published this month, Sanders was the first choice of 16 percent of likely Democratic caucus-goers. In a recent Wisconsin straw poll, Sanders got 41 percent of the support of attendees at the state party convention—only 8 percentage points fewer than Hillary Rodham Clinton. (This surprised the candidate himself.) And in a poll published Sunday by Morning Consult, Sanders got the backing of 32 percent of likely Democratic primary-voters in New Hampshire. 
In addition to overflowing crowds and coverage from media looking for an unexpected contender, Sanders has an additional advantage not available to McCarthy: stickiness on social media.
Matt Lindstrom, the Director of the Eugene J. McCarthy Center for Public Policy and Civic Engagement at McCarthy's alma mater, St. John's University, sees definite overlap. "Sanders elicits a grassroots populist appeal, particularly among idealists—whether they be movement Democrats or younger Democrats—similar to Senator McCarthy," he said. "There's a kind of feeling of, 'We can fight the man if you will.'" (Or in this case, Lindstrom pointed out, the woman: Clinton.)
McCarthy and Sanders share unconventional political résumés. For one, McCarthy spent time as a member of a Benedictine monastic community; Sanders spent time on an Israeli kibbutz.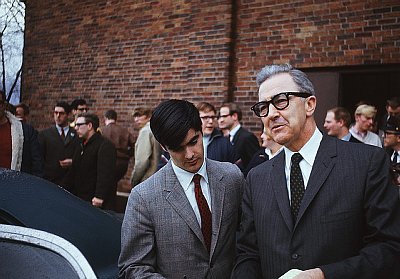 "Both McCarthy and Sanders have the advantage of, initially at least, being the long shot. And when you're that long shot you can take bigger risks, you can be bold, you can be consistent with your conscience, versus taking positions to help you win a general election," Lindstrom said. "I think that's why these two candidates are so appealing to these ideological purists."
Of course there are big differences between now and 1968. Clinton is not an unpopular incumbent, for all the brushstrokes Republican would-be opponents apply to paint her that way. And whatever the controversies surrounding her and her husband, public animosity toward Clinton doesn't begin to approach the anger that brought hundreds of thousands of Americans to protest in Washington against Johnson's policies in Vietnam. Sanders's issue has more to do with butter than with guns. In April, he told Bloomberg that he didn't think Clinton was "prepared to take on the billionaire class." And he has criticized her for "fence-sitting" on the (now held-up) Trans-Pacific deal. So far, at least, income inequity , as a galvanizer of passionate activism, does not approach the anti-draft sentiment of the sixties.
"I think the draw of the anti-war versus the draw to issues of economic inequality are significantly different," Lindstrom said. "Seeing body bags, seeing tens of thousands of kids going off to war, that was fundamentally right in our face. This isn't, in the same way."
Still, the Clinton camp is feeling enough of a push to start laying the public relations groundwork:
In New Hampshire, McCarthy changed the course of the debate—and, arguably the war. This month, in a Keene, New Hampshire rec center, Sanders told his audience, "Let me tell you a secret: we're going to win New Hampshire."
To campaign for their candidate, McCarthy's long-haired, bell-bottomed supporters got shorn and buttoned-down: "Get Clean for Gene," the drive was known. The free-loving sixties are over, but there's no place like the streets of Sanders's Vermont to see the same kinds of long beards and hair, the same bumper stickers for peace.
Maybe the pollsters and pundits should start keeping an eye on Burlington barbershops.