Europe Struggles Toward Solution as Tsipras Rips Into Creditors
Eleni Chrepa and Arne Delfs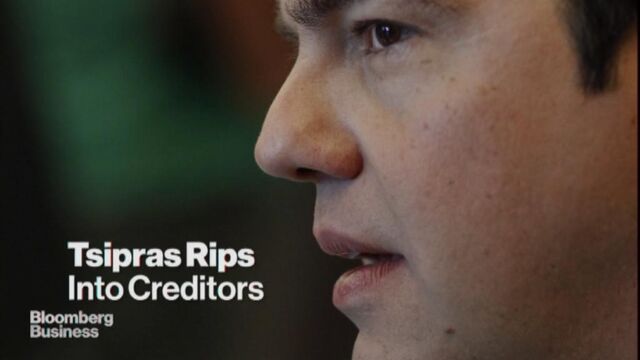 European decision makers were at a loss over Greece's fate as Prime Minister Alexis Tsipras hurled insults at its creditors while Germany's Angela Merkel kept her cool.
Wading in from a increasingly concerned U.S. was Treasury Secretary Jacob J. Lew, who got on the phone with Tsipras to tell him to get serious about reaching a compromise. This was after Tsipras went on a tirade against the International Monetary Fund and the European Central Bank. In Berlin, Merkel refused to take Tsipras's bait, saying that she would do everything possible to keep Greece in the euro.
As a deadline for a solution approaches, the antagonism of recent days has rattled markets and left Greece watchers confused as to whether a default is at hand. Chancellor Merkel's even-keeled tone is one indication that there may be a resolution after all, no matter how much Tsipras protests.
At stake is Europe's drive to keep the euro indivisible. Greece needs to seal an accord or get an extension before the euro area's bailout expires on June 30, or risk missing payments on its debt of about 313 billion euros ($352 billion).
The IMF "bears criminal responsibility for the situation in the country," Tsipras told cheering lawmakers from his party in Parliament. He accused the European Central Bank of using tactics that were akin to "financial asphyxiation."
Athens Protest
Government backers plan to rally on Wednesday night at the central square in the capital. The Athens Stock Exchange Index fell 4.8 percent on Tuesday. Greek bank stocks fell 8.9 percent.
Sweeping into power in January on a campaign to end austerity, Tsipras often delivers his most provocative rhetoric to his audiences back home. Back on June 5, he said that creditors' proposals to unlock funds were akin to "irrational, blackmailing demands."
Those kinds of words jeopardize the chances that the Greek government can bridge the divide with its trio of creditors -- the IMF, the ECB and the European Commission -- any time soon. The focus now shifts to a meeting of finance ministers on Thursday and a June 25-26 summit of European Union leaders.
European Commission President Jean-Claude Juncker said Tuesday he has had no contact with the Greek government since Sunday night, when negotiations broke up acrimoniously after 45 minutes because they "were leading nowhere."
Blame Greeks
The Greek government is telling "things to the Greek public which are not consistent with what I told the Greek prime minister," Juncker told reporters in Brussels.
As Tsipras took to the podium in Athens, Merkel told reporters she "unfortunately" had little to report by way of progress and was counting on the meeting of finance chiefs in Luxembourg to end the standoff.
"I'm concentrating all of my energy on helping the three institutions find a solution," Merkel said in Berlin.
Later in the day in Lew's call with Tsipras, the secretary "underscored the urgency of Greece making a serious move to reach a pragmatic compromise with its creditors," according to a Treasury statement. That contrasts with the last Treasury statement on a Lew-Tsipras call from May 27, which said the U.S. "continues to urge all parties to find common ground and reach an agreement quickly."
Stay Calm
Volker Kauder, parliamentary leader of Merkel's Christian Democrat-led bloc and one of the more hawkish voices in her coalition, said he was "staying calm and relaxed." Negotiators have until June 30, he told reporters.
Greece has snubbed European pleas to submit a new proposal to avert insolvency, saying it was up to creditors to make the next move. The lenders say it's the other way around.
In the meantime, the unprecedented flight of deposits from Greek banks continues. Withdrawals reached 2 billion euros this month, according to two people familiar with the matter.
Some suggest divine intervention is needed.
"We need a miracle to resolve this next weekend," Finnish Prime Minister Juha Sipila told reporters in Helsinki.
Read this next:
Before it's here, it's on the Bloomberg Terminal.
LEARN MORE