Rolls Ready to Share Engine Work in Push to Narrow R&D Gap
Benjamin Katz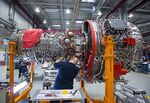 Rolls-Royce Holdings Plc wants to hand more work on its aircraft engines to partners to help increase output and free up research resources for new products it will introduce in the course of the next decade.
The portion of its Trent engines that Rolls-Royce will purchase from suppliers will increase to 80 percent from 70 percent, Tony Wood, head of the Rolls-Royce's aerospace division, said in an interview at the Paris Air Show. Engine production will more than double over the next three to four years from 300 last year, led by output in Singapore, he said.
Rolls-Royce is responding to a push by planemakers Airbus Group SE and Boeing Co. to hasten aircraft deliveries as they work through backlogs that extend beyond 2021. The greater reliance on suppliers comes as the U.K. company pursues technology both to maintain its leading status in selling engines for wide-body jets and position itself in the narrow-body jet space from which it is currently absent.
"That's a very deliberate move," Wood said. "We've built the capability in our supply chain so that we can focus on the the really tough parts of the engine where there's the highest technology."
The move adds pressure to Rolls's supply chain as Airbus and Boeing increase output to meet increased demand. The U.K. company has 1,500 orders for its Trent XWB, the only engine available on Airbus's A350 wide-body model. It's one of two engine choices on the Boeing 787 Dreamliner and the A380 jumbo.
Supply Strains
"It's one thing to manage your own factories, it's another thing when you're buying 80 percent of the engine to make sure that our supply chain is ready," Wood said.
Rolls, whose Chief Executive Officer John Rishton is at the Paris show to introduce customers to his successor, Warren East, has gained market share on dual-aisle aircraft at the expense of a position supplying engines to short-haul carriers. The London-based company effectively exited the market after selling its 32.5 percent stake in a venture with United Technology Corp.'s Pratt & Whitney for $1.5 billion in 2011.
The powerplant-maker is now pushing into new technologies, investing 1.2 billion pounds and filing 600 patents in the last year, the most of any U.K. company, as it positions itself for a new aircraft platform, Wood said. Leaner combustion systems, ceramic matrix composites and carbon-titanium fan blades are among the technology Rolls is pursuing, he said.
Aircraft-makers and airlines will have two options from the company for new planes, including the Rolls-Royce Advance engine in 2020, and its Ultrafan model in 2025.
"There's a mixture of market pull and technology push here, and the industry is in a phase at the moment where it's more about technology push," Wood said.