Paul Ryan Downplays Odds of 2015 U.S. Corporate Tax Rate Cut
Richard Rubin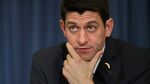 A corporate tax rate cut is looking less and less likely to be on U.S. House Republicans' agenda this year. Instead, they're focusing on reviving lapsed breaks and making changes to the international tax system.
Representative Paul Ryan, chairman of the House Ways and Means Committee, outlined his approach Tuesday in comments at a Wall Street Journal event in Washington. He also said he was exploring an "innovation box" that would impose lower tax rates on income generated from patents and other highly mobile sources of profits.
Ryan and other Republicans earlier this year were exploring the possibility of cutting the 35 percent corporate tax rate without lowering individual rates that many small businesses pay -- as much as 39.6 percent. As recently as April, he was seeking input on ways to reduce the tax burden on small businesses without cutting their statutory rates.
Now, Ryan has narrowed his focus. When asked whether he was unable to find a way to cut the corporate rate without harming small businesses, he said, "We were concerned about exacerbating the disparity."
Ryan, a Wisconsin Republican, didn't say definitively that a corporate rate cut is off the table for now.
But he came very close, and said potential action in Congress this fall would focus on international taxes and breaks such as the research tax credit that expired in 2014.
A broader tax revamp will wait, he said, until 2017. That will be after President Barack Obama, who won't cut individual marginal tax rates, leaves office.
"There's an impasse that is impassible," Ryan said.
Meanwhile, Ryan urged businesses to be patient while lawmakers try to restructure the U.S. tax system and said they should be willing to give up favored tax breaks.
"Don't fight for the little tiny table scraps," he said. "Think about the broader goal of getting rates down, of having comprehensive tax reform."