United Airlines to Cease Operations at JFK
Michael Sasso and Mary Schlangenstein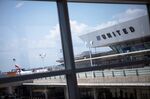 United Airlines is pulling out of New York's Kennedy airport and consolidating premium transcontinental flights at its Newark, New Jersey, hub in a bid to capture more passengers on the most lucrative U.S. routes.
The move includes bringing in Boeing Co. 757s now flying trans-Atlantic routes, helping boost the number of flat-bed seats in the "BusinessFirst" cabin by 44 percent from a year earlier, United said Tuesday. Other upgrades include on-demand entertainment systems with individual seatback monitors and power ports, as well as multi-course meals and towel service.
The cross-country market includes the most profitable domestic routes linking the greater New York City area with Los Angeles and San Francisco and features American Airlines Group Inc. and JetBlue Airways Corp. planes with customized cabins to win travelers. United has lost money on its premium service out of JFK for seven years.
"We are investing in the three critical components of the travel experience for our customers -- our network, our product and our facilities," said Jim Compton, United's chief revenue officer.
United is also making a "multi-million-dollar investment" to renovate its Terminal C lobby and clubs at Newark, in addition to the $2 billion it's spent there already on redesigning lounge-like gate areas and chef-driven restaurants.
International Connections
Chicago-based United, a unit of United Continental Holdings Inc., will cease operations at JFK on Oct. 25, while continuing to operate 37 daily departures from LaGuardia to other domestic destinations. United plans to swap its slots at Kennedy with Delta Air Lines Inc. and take Delta's slots at Newark.
From Newark, United will be able to offer more flights connecting international passengers to domestic destinations, Compton said. United will operate as many as 17 round-trip flights from Newark to San Francisco and as many as 15 to Los Angeles.
The shift to Newark will represent a capacity decline for United. The number of departures will be cut by 22 percent and the available seats will drop by 26 percent, according to JPMorgan Chase analyst Jamie Baker. Premium seats will rise about 14 percent and economy seats will be reduced 31 percent.
United is retreating to its stronghold in Newark as competition heats up at John F. Kennedy International airport, said Craig Jenks, president of consulting firm Airline/Aircraft Projects Inc. The JFK-Los Angeles route has five U.S. carriers serving it, he said.
Currently, United accounts for 4.6 percent of passengers at Kennedy, the least among major airlines there, according to the U.S. Transportation Department. It has the largest presence at Newark, with 48 percent.
Newark Solution
United was the first major U.S. airline to roll out a premium service on New York-to-San Francisco and Los Angeles routes in 2004, but it fell behind as others began stepping up their products too in the past few years.
American Airlines, which is the only carrier to offer three-class service on transcontinental routes -- with first, business and economy cabins -- provides private berths, three-course meals and ventilated compartments for pets. JetBlue's Mint offers lie-flat dark leather seats and a full-bottle wine service.