business
Europe Stock Strategists 100% Bullish in Face of Greece Impasse
Roxana Zega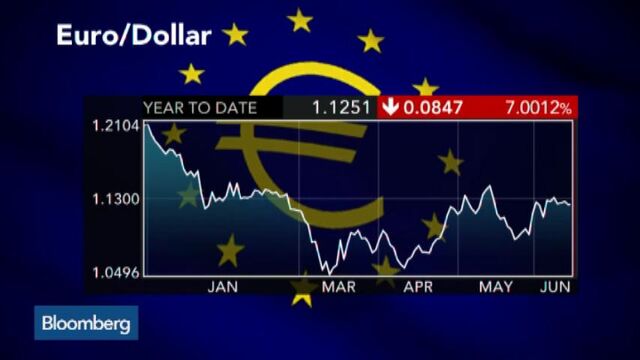 Greece isn't budging, and neither are Europe's stock strategists.
Clashes between officials in the Mediterranean nation and its creditors are wreaking havoc on markets, yet none of the 15 forecasters tracked by Bloomberg lowered their year-end estimate for European indexes. All of them see gains. UBS Group AG even raised its projection this month, citing better-than-expected earnings growth and a turn in the economy.
With analysts projecting three straight years of earnings growth surpassing 10 percent and European Central Bank stimulus in force, equity forecasters view Greece jitters as temporary. A Bank of America Corp. survey showed the region is still favored among stock investors. Citigroup Inc., the most bullish firm, sees the Stoxx Europe 600 Index jumping 17 percent through the end of the year.
"Greece has no material impact on the European economy because it is so small," said Christian Zogg, a fund manager who helps oversee about $10 billion at LLB Asset Management in Vaduz, Liechtenstein. "The earnings momentum had just taken off before we had this correction from mid-April. We saw the first signs of the European economy benefiting from a lower euro, and there's no reason they shouldn't resume."
The wrangling over Greece has helped drag the Euro Stoxx 50 Index down 10 percent from its high in April to a four-month low. The focus now turns to a meeting of finance ministers on Thursday and a June 25-26 summit of European Union leaders. Greece's bailout package expires at the end of the month.
Cash High
A Bank of America note on June 16 showed European fund managers have increased their cash allocation to a six-year peak. In the past, when cash levels were this high, the region's equities climbed in the following three months, according to the report.
Traders are preparing for calmer days, betting on a 23 percent drop in stock swings, according to three-month futures tracking Euro Stoxx 50 volatility. The region's economy is forecast to expand 1.5 percent this year and 1.7 percent next, the most since 2011.
Still, stocks may have more to lose if Greece and its creditors don't come up with an agreement soon, according to Witold Bahrke, an asset-allocation strategist at Nomura International in London.
Heating Up
"It's all heating up here," Bahrke said. "If we're in July and we don't have a deal, I would expect some nasty volatility around European assets. This will also affect central banks and how the Fed thinks about external factors. It's decisive for European assets."
Samy Chaar, a strategist at Lombard Odier in Geneva who hasn't reduced exposure to European equities during the selloff, is confident that a deal will be reached. The consequences for other euro-area countries of Greece leaving the currency union would be too big for policy makers to let it happen, he said.
"It's going to be an unsatisfactory and unpleasant deal, but they will reach one," Chaar said. His firm oversees $173 billion. "If they find a deal, there would be a rally. Except for the Greek issue, we're pleased with what we see in Europe in terms of economic and corporate activity."
Read this next:
(For an Options column news alert: SALT OMA.)
Before it's here, it's on the Bloomberg Terminal.
LEARN MORE