Energized Jeb Bush Hits the Trail
In the second day of his campaign, the newly announced candidate ridicules his rivals.
By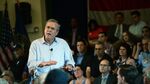 On his first day as a Republican presidential candidate, Jeb Bush distanced himself from enhanced interrogation techniques, ridiculed the legislative accomplishments of his rivals, jabbed at Democrat Hillary Clinton and embraced a developmentally disabled woman pressing for better jobs for those with special needs.
It was a strong opening performance in New Hampshire from Bush, who seems to have righted the ship after a tough last month. Bush was taking on water in May after flubbing a question about the Iraq war, and shuffled his staff just before declaring his candidacy.
Yet after a successful week overseas and a well-received announcement speech on Monday, Bush appeared confident and emboldened as he paced the floor of the historic Derry Opera House. He told the crowd he was scanning the audience for the New Hampshire man who consistently shows up to ask him about immigration, laughed about his hometown of Miami being a "wacky" place, and asked to be at least the sixth choice of one voter.
"I'm working my way up to No. 1," Bush said.
Bush, who is generally at or near the top of national polls of Republican presidential candidates, took off the gloves to take aim at his Republican rivals in the U.S. Senate, ridiculing candidates who "are really good at talking" and calling for a president who can "fix a few big things so that this nation takes off."
"Who is going to be the president that can make it possible to grow at 4 percent per year over the next decade?" Bush said. "I believe I have the skills through experience, through trial and error ...  through being a governor who had to balance budgets eight years in a row, who had to make people upset once in a while to be able to make a decision. I didn't hide behind the collectiveness of the legislative body. I didn't file an amendment and call that success. I actually did things as governor."
Bush pointed to his work to "de-institutionalize" programs for the developmentally disabled in Florida. The subject came up when he was asked by a woman with special needs about finding work for those with disabilities. Showing his ability to connect with the crowd, Bush embraced the woman after the question as the crowd responded with a sustained applause.
"The limits that people may have pale in comparison to the joy that they can give," Bush said. "I don't think that's a value that we should shy away from as Republicans."
Bush, who has long viewed himself as the most experienced Republican presidential contender, used similar language in his announcement speech on Monday. In an interview with Sean Hannity at the Opera House before the town hall meeting, Bush laughed off a question about whether the rhetoric was directed at any one candidate, including his friend and fellow Miami resident Senator Marco Rubio.
But Bush didn't pass up the opportunity to go after Hillary Clinton, the front-runner for the Democratic presidential nomination. Asked by Hannity to say something nice about Clinton, Bush described her as smart. He then went after her own resume, saying she passed just three laws in eight years in the Senate and that he'd "put my record up against Hillary Clinton's eight days a week."
"She is a formidable candidate," Bush said. "She is going to be tough, no question about it."
Bush, who described himself as the only Republican candidate who "doesn't ascribe bad motives" to Democrats, said during the town hall that he'd work across the aisle to make Social Security solvent. He didn't disagree with a questioner who said Republicans are known for tax cuts for the wealthy, saying the code is "rife" with carve-outs for wealthy special interests. Bush said the tax code should be simplified, but didn't say which exemptions or credits he would eliminate.
"Our tax code should not be the means by which we create policy," Bush said. 
Asked about "enhanced interrogation" in the interview with Hannity, Bush said "I don't think it's necessary," adding that "it was appropriate at the time." A report by Democrats on the Senate intelligence committee last year showed the CIA misled Congress and kept former President George W. Bush in the dark as it conducted interrogations of terror suspects that were far more brutal and less effective than publicly portrayed.