Autos
Buy 'WALL ST' Vanity License Plates for $12,000
And, OK, you get a 2002 Mercedes-Benz S-Class sedan, too
By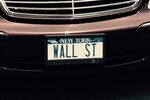 This just in: Do you wear pinstripe suits and wide-collar shirts? Do you frequent models 'n' bottles clubs with your fraternity chums/co-workers? Do you have an extra $12,000 to burn?
Then consider this: The only "WALL ST" license plate issued in the state of New York is for sale right now on EBay. (It's attached to a 2002 Mercedes-Benz S-Class sedan.) The seller originally bought the plates when they first became available in New York, in 1976; he was working at the brokerage firm E.F. Hutton at the time and put them on his '76 Chrysler Cordoba.
And you're in luck: So far, there have been zero bids.
That may be telling (it probably is), but for the right guy, this is a once-in-40-years chance at making history. Like your pec tattoo of Gordon Gekko smoking a cigar.
Better hop to it. Sale ends on Wednesday, June 17, at 8:05 a.m.

Before it's here, it's on the Bloomberg Terminal.
LEARN MORE