Airbus Ahead of A350 Production Schedule With Built Planes Ready
Andrea Rothman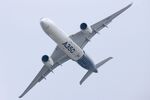 Airbus Group SE said it's ahead of its own production schedule for A350 wide-body aircraft this year and is confident it can deliver 15 planes to customers in 2015 as the pace of assembly accelerates following certification.
The European planemaker so far this has delivered three A350s to Qatar Airways Ltd., and the next shipment, to Vietnam Airlines Corp JSC, is set for the end of this month, said Didier Evrard, Airbus's executive vice president for programs.
The pace of output will gain speed in the second half because early A350s built entered production before the plane won certification late last year and had to be brought up to the required standard, Evrard said at the Paris Air Show Tuesday.
"All the other planes set for delivery this year are already in very advanced stages of fabrication after we brought them up to the certification standard," Evrard said. "All we have to do is finish them."
Certification typically requires many small changes from the original configuration on early-build models. With Airbus having reached a level of standardization on the A350, work will accelerate, both through the supply chain and on the final assembly line. At this stage, there are three A350s entering the line simultaneously, which will increase to 10 a month in 2018.
statistics
For more on the 2015 Paris Air Show, go here: Special Report