Tsipras Hardens Greek Stance After Collapse of Talks
Marcus Bensasson, Patrick Donahue and Jonathan Stearns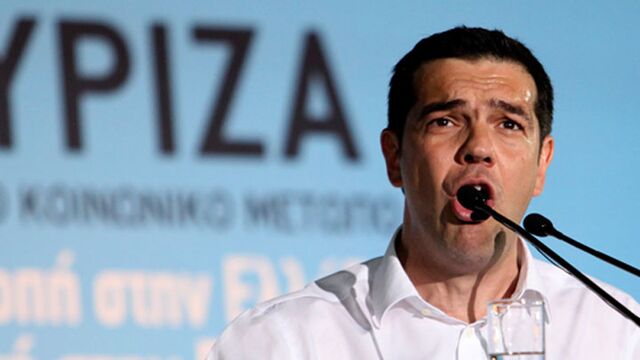 Greece and its creditors swapped recriminations over the breakdown of bailout talks, each side hardening its position after attempts to bridge their differences collapsed.
With markets dropping, Prime Minister Alexis Tsipras portrayed Greece as the torchbearer of democracy, standing firm against creditors' demand for pension cuts. European Commission spokeswoman Annika Breidthardt said that account of the creditors' position was a "gross misrepresentation of facts."
"One can only read political motives in the creditors' insistence on new cuts to pensions after five years of plundering them under the memorandum," Tsipras said in a statement to Efimerida Ton Syntakton newspaper on Monday. "We will wait patiently for the institutions to move toward realism."
The euro dropped after the European Commission said negotiations in Brussels had broken up after just 45 minutes on Sunday because of the chasm separating the sides. The focus now shifts to a June 18 meeting of euro-area finance ministers in Luxembourg. Officials have focused on that as a make-or-break session for Greece's ability to avert default and stay in the currency union.
Risks Rising
Greek bank stocks, which have fallen 99 percent from their pre-crisis peak, plunged as much as 17 percent and traded 8.7 percent lower at 1:51 p.m. in Athens. The yield on Greece's 2017 bonds jumped 241 basis points to 28.45 percent.
"The likelihood that no agreement will be reached is rising," Bundesbank President Jens Weidmann said at an event in Frankfurt on Monday. "Time is running out."
The Stoxx Europe 600 Index fell 1.1 percent and the euro weakened 0.5 percent.
Breidthardt said Greece's creditors are not calling for cuts to pension payments, but instead want a higher retirement age and fewer people retiring early. The creditors have lowered their demand for this year's primary budget surplus to 1 percent of gross domestic product from 3 percent, she added.
Greek government spokesman Gabriel Sakellaridis said that the different priorities of the IMF and the euro area are making it more difficult for Greece to satisfy its creditors. He said talks have not broken down and Greece's only plan is to reach a deal.
All the same, other European governments are starting to consider the precautions they'll need to protect themselves. Spanish Foreign Minister Jose Manuel Garcia-Margallo said there's a real risk of Greece being forced out of the euro, Efe news agency reported.
"The attitude taken by the Greek government obliges us to look at other options of which, at the most extreme, Grexit is one," Belgian Finance Minister Johan Van Overtveldt said in a speech in Berlin.
Close to Default
The latest failed attempt to find a formula to unlock as much as 7.2 billion euros ($8.1 billion) in aid for the anti-austerity Syriza-led government brings Greece closer to the abyss. With two weeks until its euro-area bailout expires and no future financing arrangement in place, creditors had set June 14 as a deadline to allow enough time for national parliaments to approve an accord.
"Greece I fear is now close to the point of a default," German lawmaker Elmar Brok, a Merkel ally who previously backed the European Central Bank bond-purchase program, said in an interview in Berlin. "It's not something the Greek people want but Tsipras seems determined to court disaster."
More than four months after he was swept into office on a wave of public discontent about budget cuts that deepened a six-year Greek recession, Tsipras has refused to meet the demands of the euro area and the International Monetary Fund. The core points of contention are pension cuts, tax rises and targets for a budget surplus before interest payments, known as a primary surplus.
2 Billion Euros
Tsipras had sent a delegation to Brussels with proposals aimed at narrowing those differences over the weekend. The commission, the European Union's executive arm, said the talks were President Jean-Claude Juncker's "last attempt" to reach a compromise.
The commission said that Greece's plans still had gaps and were 2 billion euros short of meeting their fiscal targets.
"This is not the kind of situation where you can have a mechanical agreement for some kind of numbers, where you meet in the middle," Valdis Dombrovskis, European Commission vice president for euro policy, said on Latvian television Monday. "To reach an agreement, Greece has to do the work that is necessary."
IMF chief economist Olivier Blanchard called on the euro area to offer concessions to Greece to help put the country's finances on a sustainable footing. European governments should offer additional financing and debt relief to Greece, Blanchard said in a blog post late Sunday. Tsipras must reform value-added tax and pensions, he said, adding that Greece can cut its pension costs by 1 percent of gross domestic product while still protecting the poorest retirees.
"We're carrying on our backs the dignity of a people, but also the hopes of the people of Europe," Tsipras said. "It's too heavy a burden to ignore. It's not a question of ideological stubbornness. It's a question of democracy."
Read this next:
Before it's here, it's on the Bloomberg Terminal.
LEARN MORE