Bars
The Five Places to Drink in Tokyo Right Now
Cocktail culture in Japan's capital city is colorful and diverse. Here are the drinks you should chase down
By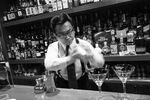 There's no better place to get sozzled than the bars of Tokyo, whether you're in the mood for a carefully calibrated concoction or good old whiskey and jazz.

Bar Trench
This understated neighborhood bar hosts live music while you sip on extraordinary drinks, like this tall gin fizz made from a base of herbaceous, refreshing German gin. 1-5-8 Ebisunishi, Shibuya; +81 03 3780-5291
Make it at home: In a shaker, mix 2 ounces of Monkey 47 gin, 1 oz. simple syrup, 1 oz. cream, ½ oz. each lime juice and lemon juice, and 1 egg white. Add a dash of orange bitters and shake hard. Strain over ice in a highball glass and fill to the brim with soda water.

Bar Gen Yamamoto
This unfiltered sake cocktail, featured in Gen Yamamoto's six-drink tasting menu, is spiked with Japan's gorgeous yayoi hime strawberries and a touch of fennel. 1-6-4 Azabu-Juban, Minato-ku; +81 03 6434-0652

Fuglen
This Scandinavian-tinged hangout serves great coffee all day long and modern, unfussy cocktails at night. Try a stirred Dry & Wet made with a ginlike liquor and a kiss of yuzu. 1-16-11 Tomigaya, Shibuya-ku; +81 03 3481-0884

Bar High Five
Once you find this small spot—tucked into an office building—ask for a Japanese whiskey cocktail spiked with green tea bitters. 7-2-14 No. 26 Polestar Building, Chuo Ginza; +81 03 3571-5815

Bar Apollo
The Moscow Mule is the specialty at this smoky jazz bar hidden away in a Ginza office building. Fizzing with ginger beer (made in-house with sweet-hot Japanese ginger), it's delicious. 2-9-22 Eiko Shimo-Kitazawa Building B1F; +81 03 2906-8082
Before it's here, it's on the Bloomberg Terminal.
LEARN MORE