Markets
A Wager Against Erdogan Pays Off in Turkey
Fund manager Haydar Acun is benefiting from the AKP's fall
By and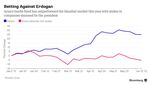 Betting against the high and mighty is always a risky investment strategy. For Haydar Acun, it's paid off big time.
The Istanbul fund manager has spent the past year building up stakes in companies that have faced the wrath of Turkish President Recep Tayyip Erdogan and his AK Party. That strategy now looks prescient as the AKP, which has ruled Turkey since 2002, lost its parliamentary majority in elections a week ago, ending 13 years of single-party rule.
"No government is destined to rule forever," Acun said in his cluttered office, a converted apartment in Istanbul's Levent business district. The AKP "was bound to stumble, and it did."
The party, which Erdogan co-founded in 2001, is looking to form a coalition government. That would reduce its influence over regulators, government contracts, and the tax authority, which have been used to batter or reward companies.
Acun's Sardis Turkish Equity Fund has generated a 62 percent return since it was founded in January 2014, versus 24 percent for the main Turkish index. Acun got into Bank Asya, an Islamic bank owned by followers of Erdogan rival Fethullah Gulen, then sold at a 50 percent profit before it was seized by the government. Another top pick is Anadolu Efes, a beermaker hit by the Islamic-rooted ruling party's restrictions on alcohol. It's up 5.5 percent. 
Fundamental Research
Sardis has "performed really well in both absolute and relative terms," said Henrik Vikstrom, an analyst at H. Lunden Holding AB in Stockholm, an investor in the fund. Acun "is extremely focused on fundamental research, visiting companies and is value-driven, which turned out well for us."

While competitors at big investment houses were serving clients detailed reports on Turkey election scenarios, regional politics and central bank policy, Acun says he mostly tuned out the news and focused on meeting managers and poring over balance sheets.
At 17 million liras ($6.3 million), Sardis is tiny in global terms. But Acun, 45, is well known and respected in a market where even the largest equity-intensive fund, Is Portfoy, manages just 57 million liras. Next month, Acun will change his fund's name to Marmara Capital and hit the road to lure investors, which he expects will help him reach 50 million liras under management.
Acun's experience suggests that focusing on business basics can be a winning strategy even in places where the market is often rocked by local politics or external forces such as the outlook for U.S. rate increases.
"In recent years, the political attitudes of managers moved to first place in investors' assessment criteria," said Figen Ozavci, Deputy CEO of brokerage Meksa Yatirim in Istanbul. "Fund managers who invest in stocks that go against this tide stand out."
Acun's contrarian bets have gone past Turkey's borders. He invested in glassmaker Anadolu Cam Sanayii AS and builder Enka Insaat & Sanayi AS just as those companies were being punished by investors on their exposure to Russia. Anadolu Cam, among Acun's top holdings for at least a year, is up 10 percent in the past 12 months. Since he added Enka in January, its stock has gained 8 percent.
"When there's uncertainty, valuations are cheap," Acun said. "I don't get carried away by sentiment. I don't watch much television, I'm not interested in market commentary."
Acun insists he doesn't deliberately buy politically risky stocks. Instead, he says he seeks to ferret out hidden value. On a March 2014 earnings call with Hurriyet Gazetecilik ve Matbaacilik AS, a loss-making newspaper under constant fire from Erdogan, Acun asked why Hurriyet wasn't considering a merger with its profitable sister Dogan Gazetecilik AS. A merger was announced on April 10 and Dogan Gazetecilik more than doubled in the following week.
Acun then concluded that the terms of the deal were unfair for Dogan Gazetecilik investors. He sold the stock at a profit and then bought it again when shares fell. Turkey's Capital Markets Board on June 1 canceled the merger. Acun now predicts Dogan will announce new terms, which could trigger another rally. As of May, Dogan Gazetecilik was his fund's top holding.
Acun tends to stay away from banks, with just one lender -- Akbank TAS -- among his top 10 holdings. Though a half-dozen Turkish lenders comprise more than a third of the value of the benchmark index stocks, Acun says he's not interested in simply matching the index.
"If that's your target, the best you can do is catch the index. I want absolute performance," he said. "You need guts to go against the crowd."
Acun's Picks
Dogan Gazetecilik
The embattled media company "has property, is profitable, doesn't produce costly newspapers and distributes dividends."
Anadolu Efes
Turkey's largest beermaker has been hit by tighter controls on drinking, but its recent rebound "may reflect expectation of an easing in alcohol bans."
Koza Gold, Koza Anadolu
Though owner Akin Ipek has ties to Erdogan's most prominent antagonist, a ruling against the two mining companies "was overturned, and that was a signal -- they create local jobs and that creates a reaction from people against" restrictions.
Reysas REIT
The real estate investment trust is a good buy "because it's the only one specialized in warehousing."
Enka Insaat
Despite extensive operations in Russia, the overseas contractor "only gets rental income" in that country. The "rents are paid in dollars and most tenants are multinationals."
For more, read this QuickTake: Turkey's Continental Divide