business
Islamic State's Gains Bolster Chad's Security Role in Africa
Ilya Gridneff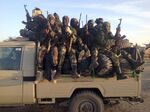 Islamic State's advances in Libya and widening attacks by militant groups in West Africa have thrust Chad, one of the poorest nations in the world, into a lead role of maintaining security in the region.
Chadian President Idriss Deby's army is fighting in Nigeria, Africa's top oil producer, against Boko Haram, which has declared loyalty to Islamic State, and helped French and government soldiers battle ethnic Tuareg and Islamist militants in Mali two years ago.
Islamic State's gains in Chad's northern neighbor, Libya, where it has seized Muammar Qaddafi's hometown of Sirte, is heightening concern the region's militant movements may coalesce behind its leadership.
"That is a new dynamic that is going to have to be factored into how we deal with this part of the world," U.S. Ambassador to Chad, James Knight, said in an interview in the capital, N'Djamena. "Chad is a permanent security partner and that will continue to be the case."
At least 30 people died in suicide bombings targeting police facilities in N'Djamena on Monday, officials said.
One of the blasts occurred at the central police station in the city, police spokesman Paul Manga said by phone. A second attack occurred at a police academy in N'Djamena's Diguel district, Abdelkerim Yacoub Koundougoumi, a human-rights activist, said by e-mail from the city.
Militant Threat
Boko Haram in January threatened to attack Chad for its role in battling the Islamist militant group.
While Uganda, Ethiopia and Kenya are driving East African efforts to contain the al-Qaeda-backed al-Shabaab movement in Somalia, Chad is the focal point for battling the militants in West Africa.
The headquarters of France's Operation Barkhane, a 3,000-member force to battle militants in the western Sahel and in the Sahara, is N'Djamena. Almost 20 countries participated in the U.S.-led Operation Flintlock exercises in Chad in March.
"Chad is demonstrating leadership," Lieutenant Colonel Brian Rauen, deputy commander of the U.S. Special Operations Command Forward-West Africa, said by phone from Stuttgart. "They've been proactive in supporting regional security."
Steeled by years of fighting internal rebellions and neighboring countries such as Sudan, the Chadian troops are able to deploy rapidly to attack highly mobile insurgents.
Chad's Success
"The extent of the successes of the Chadian army's intervention were not limited to only pushing Boko Haram away from the territories they had held but also in trying to capture them right inside Nigeria," Bawa Abdullahi Wase, a security analyst and associate at the Network for Justice, in Nigeria's capital, Abuja, said by phone Tuesday.
The government of Deby, a 63-year-old former general who took power in a 1990 coup d'etat, has drawn criticism from London-based Amnesty International and the U.S. for its human-rights record. Chad's forces withdrew from a multinational force in Central African Republic after complaints by local residents about their use of violence.
"With Chad, the international community would do well, in my view, to review the current balance between short-term interests in defense and counter-terrorism cooperation and long-term interests in development, democratization, and human security," Benjamin Nickels, academic chair for Transnational Threats and Counter-Terrorism at the Washington-based Africa Center for Strategic Studies, said by e-mail.
Oil Producer
While Chad is sub-Saharan Africa's seventh-biggest oil producer, it ranks 184th out of 187 countries in the Human Development Index and 73rd out of 78 on the International Food Policy Research Institute's Global Hunger Index. Transparency International classified it 154th among the 174 nations in its 2014 Corruption Perceptions Index.
Petroleum Minister Djerassem Le Bemadjiel says Chad, a country of 12 million people, has no choice but to focus first on security challenges.
"You need security before you can eat," he said in an interview in N'Djamena. "When you look at the country, the poverty level, you can't understand why they use the oil money to buy weapons, but it's the top priority to secure people first."
The Stockholm International Peace Research Institute, acknowledging unreliable data, estimates that Chad, with a $13 billion economy, has spent at least $2.2 billion on the military over the past 12 years.
Military Spending
Chad spends about $12 million a month on military operations against Boko Haram in Cameroon, Nigeria, Niger and the Lake Chad region, Finance Minister Bedoumra Kordje said in an April 9 letter of intent to the International Monetary Fund.
Kordje, the finance minister, said that a stable Chad is vital to keeping the region's militants at bay.
"If Chad collapses all the terror groups and security issues will join together," he said in an interview at his office in N'Djamena.
Other nations in the region share the concern about Islamic State.
"Islamic State isn't far away," Malian Foreign Minister Abdoulaye Diop said in a May 19 interview in Ghana's capital, Accra. "There are terrorist groups in Mali who are following closely what's happening in southern Libya and in Nigeria."
While Chad's stability is important in the fight against the insurgents, there's no immediate threat that they will forge an alliance quickly, Nickels said.
'Terrorist Networks'
"The various terrorist networks in Africa are far from unified and would be hard pressed to form a single front or caliphate in Africa, with or without Chad," he said. "That said, terrorist groups might certainly benefit from a weakened Chad embroiled in turmoil."
One sign that Boko Haram is collaborating with Islamic State is the recently improved quality of its video propaganda, said U.S. Ambassador Knight.
"Beyond that one of the phrases I've heard is that they're like Facebook friends as opposed to a strong operational coordination and support," he said. "If that happens, we have some serious problems, particularly if what is happening in southern Libya is not contained."
(Updates with suicide bombings in fifth paragraph.)
Before it's here, it's on the Bloomberg Terminal.
LEARN MORE