Hillary Clinton Proposes More Funding for Early Childhood Education
In New Hampshire, the Democratic frontrunner rolls out the first in what will be a series of policy proposals.
By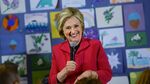 Hillary Clinton embraced her new role as a grandmother and her longer-term one as a child advocate on Monday, offering up proposals on early childhood education and calling for tax cuts to help middle-class parents pay for child care..
It was Clinton's first set of policy proposals kicking off a summer of planned rollouts. Speaking at a YMCA in Rochester, N.H., Clinton revealed some details of the approach she'd take if elected, including the goal of ensuring that "in the next 10 years every 4-year-old has access to high-quality preschool." 
Clinton, who formally launched her campaign for the Democratic presidential nomination on Saturday, said she hopes to double funding for Early Head Start and the Early Head Start Childcare Partnership grant program, and supports a middle-class tax cut "that can go toward helping parents pay for quality child care." 
Republicans, she said, have taken the wrong approach in supporting tax breaks for oil companies and hedge fund managers while cutting funding for programs that support young children. 
"Republicans aren't just missing the boat on early childhood education, they're trying to sink it," she said. "Republicans took care of those at the top and went after the kids."
After getting a question from a grandmother who is taking care of her young grandchildren, who she said would have otherwise been taken into the state's custody "because of addiction," Clinton added to her position, saying she would make sure to "extend every program, every tax break, everything we do to people who are taking care of kids."
The former secretary of state and first lady got emotional as she heard from the woman, who described her situation as "painful" and said she has half a dozen friends parenting their grandchildren.
"It is heartbreaking," Clinton said, mentioning the stories of drug addiction she said she's heard at every stop along the campaign trail over the past two months. "I think you're very brave and very loving to take on this responsibility."
Clinton also took a question about educating older kids, especially those with ADHD and other attention disorders. While some do need medications, "medicating kids because we have not yet figured out how to deal with their particular needs" is not the right approach.
Aides said Clinton will also roll out a comprehensive childcare agenda in the coming weeks aimed at ensuring that children from birth to age 3 have access to quality care.
CORRECTION: This story has been corrected to reflect the fact that Clinton said she wants to double funding for Early Head Start and the Early Head Start Childcare Partnership grant program.