Greek Stocks Lead Europe Markets Lower as Debt Talks Break Down
Alan Soughley and Roxana Zega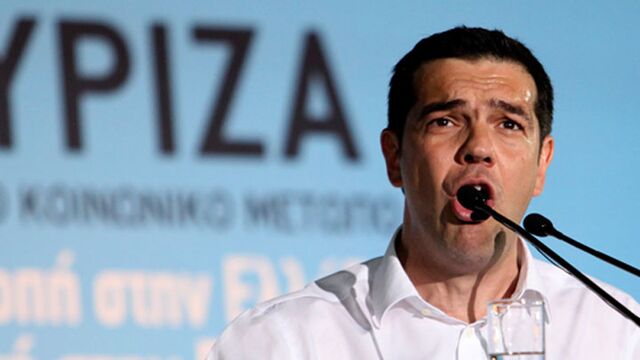 Greece dragged European stocks to their lowest level on almost four months after weekend debt talks between the Mediterranean nation and its creditors broke down.
The Stoxx Europe 600 Index slipped 1.6 percent to 383.02 at the close of trading. Greece's ASE Index dropped 4.7 percent, with Alpha Bank AE and Piraeus Bank SA tumbling at least 9 percent. Italy's FTSE MIB Index posted the second-worst performance among western-European markets, with a 2.4 percent decline.
"It's all about politics," said Witold Bahrke, an asset-allocation strategist at Nomura International in London. "Either things will go down relatively smoothly, or you have the extreme scenario where they leave the euro and we're in uncharted territory. We can manage a Grexit, but after initial market volatility, it should lead to higher risk premia."
Talks in Brussels between Greece and its creditors fell apart after just 45 minutes on Sunday. The European Commission said that the divide between what creditors demanded and what Greece was prepared to do couldn't be bridged. The June 18 meeting of euro-area finance ministers may now be a make-or-break session deciding whether it can avert default.
The latest failure to find a compromise to unlock as much as 7.2 billion euros ($8.1 billion) in aid for Greece's anti-austerity government was accompanied by warnings about the risk of the country's exit from the 19-nation euro.
European Central Bank President Mario Draghi said it's up to the Greek government to take the next step to break the deadlock with creditors and secure a deal on its bailout.
Read this next:
Increased Volatility
The VStoxx Index, which tracks expectations for equity swings, jumped 10 percent to its highest level in almost five months.
"It doesn't need to happen this week, the deadlines are very fluid," said Bahrke. "But if we're in July and we don't have a deal, I would expect some nasty volatility around European assets and I think this will also affect central banks."
Among stocks moving on corporate news, Metro AG fell 4.7 percent after agreeing to sell its Galeria Kaufhof stores to Hudson's Bay Co. for 2.83 billion euros.
Deutsche Annington Immobilien SE slid 5.6 percent. The property company said that its funds from operations per share will be hurt by a planned capital increase of about 2.25 billion euros needed to finance the acquisition of Sudewo Group.
Telekom Austria AG dropped 3.9 percent after saying that Chief Executive Officer Hannes Ametsreiter will step down at the end of next month, ending his employment contract early.
EasyJet Plc retreated 2.3 percent after RBC Capital Markets downgraded the airline from outperform to underperform, the equivalent of a sell rating.