California Democrats Approve $117.5 Billion State Budget
Alison Vekshin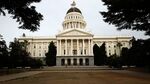 California's Democrat-controlled legislature approved a $117.5 billion budget Monday even though Governor Jerry Brown has said the spending plan relies on overly optimistic revenue projections.
The budget assumes the state will take in $3.1 billion more in tax revenue than Brown's finance department estimates. The lawmakers want to spend the additional money on programs ranging from childcare to public universities, as well as paying down debt and putting more into reserves than the governor's plan.
Brown, a 77-year-old Democrat, hasn't yet said whether he will veto some of the additional spending. California's constitution requires lawmakers to approve a budget by June 15 or forfeit their pay. Legislative leaders said they intend to negotiate a compromise with Brown before the fiscal year begins July 1.
"What we're doing today is we're fulfilling our constitutional obligation to our constituents and the state of California by submitting our vision of our budget to the executive branch," said Senate President Pro Tem Kevin de Leon. "We will continue our conversations."
California has benefited from a surge in capital-gains tax revenue and from temporary tax increases voters approved in 2012 that have plowed $6.7 billion more into the state's coffers than Brown estimated in January. The surplus is fleeting and the money should be banked, he said.
Credit Rating
Standard & Poor's said in May it could raise the state's credit rating if the final spending plan mirrors Brown's proposal.
"This member does not believe that this is a real budget," Senator Jeff Stone, a Republican, said during debate. "We're just going through the motions because we all know with Prop. 25 if we don't pass it by June 15, we don't get an auto deposit into our checking account from this day forward until we do."
The budget includes $749 million more in general fund spending than Brown's plan. This includes $20 million for farmworker housing, $262 million for childcare and preschool and $25 million for the University of California if it increases enrollment of in-state students by 5,000 in the next two years.
They proposed adding $760 million to a new rainy-day fund on top of the $3.5 billion Brown wanted.
Brown's budget proposal pours most of the surplus into schools and the reserve fund as required by law. His $115 billion spending plan, a 6 percent increase from the current year's $108 billion, also pays down debt accumulated under previous governors to paper over deficits.
The legislature has approved a budget by the June 15 deadline in each of the last four years. In 2011, Brown vetoed the one they passed on June 15 and then-state controller John Chiang withheld lawmakers' pay, prompting a lawsuit by the legislature.