Airbus Says A380 Stretch Among Future Options for Double-Decker
Guy Johnson and Andrea Rothman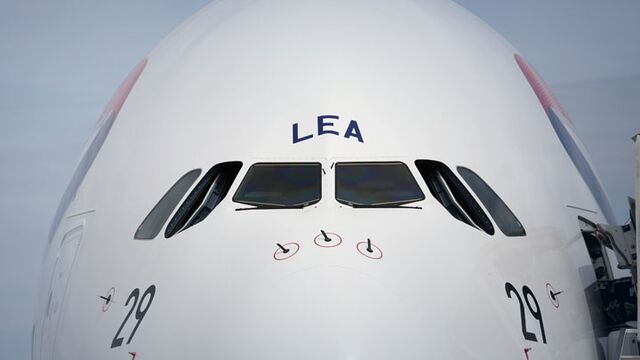 Airbus Chief Executive Officer Fabrice Bregier said stretching the A380 into an even longer superjumbo is among possible options being considered to reboot a plane that's failed to win new buyers for several years.
Any commitment to a design overhaul of Airbus's flagship product won't come at the Paris Air Show, which kicked off Monday, or even later this year, Bregier said in an interview.
"It's clear that one day we'll have to invest in an evolution of this family," Bregier said. "As the market doubles in size every 15 years, we'll also need a light stretch, and this aircraft is capable of it. It all depends on market conditions."
Emirates, the A380's biggest customer, has pushed Airbus to rejuvenate the superjumbo and wants it to add more fuel-efficient engines, something the manufacturer has said it won't do for just one customer.
Airbus wants to make sure that it can stem a loss on each A380 produced before it commits to more funds for an upgrade, Bregier said. The plane remains far from breaking even overall as a program, given the $20 billion spent on development.
Producing a stretched version of the A380 by making the fuselage longer would be less costly than developing new engine variants. Airbus has enough A380s on order to break even on production in 2016 and 2017. The company needs to build about 30 A380s a year in order to maintain that goal.
statistics
For more on the 2015 Paris Air Show, go here: Special Report