Independent Lawmaker Takes on Ireland's Richest Man
Donal Griffin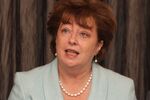 Denis O'Brien, Ireland's richest man whose empire stretches from Jamaica to Cameroon, has found a nemesis: a 62-year-old woman from the blue-collar northside of Dublin.
Independent lawmaker Catherine Murphy has spent the last seven months looking into O'Brien's ties with Anglo Irish Bank Corp., questioning the billionaire's purchase of a troubled infrastructure company from the bailed-out lender and whether he got a preferential rate on his own loans.
A construction worker's daughter elected amid a surge of popular anger in 2011, Murphy has rattled the nation's coalition government and threatened the reputation of one of the country's most powerful men. In an Irish Times opinion piece, O'Brien, 57, said Murphy is seeking "notoriety and political advantage" through "untruthful" statements.

"This was never intended to be any kind of a personalized campaign and it still isn't," said Murphy in an interview in the parliament's cafe in Dublin last week. "It's about making sure that the citizens of this country can be confident in the political and institutional framework that's here."
A spokesman for O'Brien said he stands by his Irish Times comments. In an e-mail statement, the bank's former Chief Executive Officer Mike Aynsley rejected what he called "objectionable and untrue statements" made by Murphy in parliament.
While the government said there's no evidence of wrong doing, this month it caved in to demands for a full inquiry into the running of the bank after first offering a review into the questions pursued by Murphy.
Don't Worry
"The government shouldn't have tried to fob her off," said Eoin O'Malley, a politics lecturer at Dublin City University. "The attitude was don't worry about it, it'll be grand. There may well be nothing to it at the end of the day, but there are questions to be answered."
At the heart of the inquiry is whether bank chiefs recovered as much as possible from the debris of Anglo Irish, or whether some assets were sold too cheaply.
The episode underscores the enduring legacy from the bank's implosion, which pushed Ireland to the brink of bankruptcy amid a 30 billion-euro ($34 billion) state rescue.
After nationalizing Anglo Irish in 2009, the government installed a new cadre of management. One problem facing the new team was how to handle a troubled industrial services company called Siteserv Plc.
In "severe financial difficulties," the company was unable to repay its loans to the bank by 2012, according to documents published by the finance ministry.
Shareholders Paid
In March of that year, the bank wrote off 119 million euros of loans to Sitserv and sold it to a Denis O'Brien-owned company for about 45 million euros, minutes of a 2012 board meeting show. Siteserv shareholders were also paid 5 million euros.
Under O'Brien's ownership and free of its debts to Anglo Irish, Siteserv won a state contract to install water meters across Ireland.
Enter Catherine Murphy. As part of a wider campaign against water charges, Murphy began asking parliamentary questions about the Siteserv sale in December.
"I tend to be the outsider on the inside," said Murphy, wearing a blue and navy suit with her glasses nestled in her brown hair. "I tend to be of the citizenry, if you like, I tend to look at it from that perspective."
While O'Brien is based in Malta, Murphy lives in Leixlip, a town of 15,000 about 12 miles to the west of Dublin. From a left-wing family, her father was a construction worker and labor unionist whose parents fought in a 1916 uprising against British rule.
Number Cruncher
Murphy married at aged 20, had two children and worked as a bookkeeper, leaving her comfortable with numbers.
Inspired by poverty she saw in Dublin as a child and her father's activism, she joined various left-wing parties before winning a seat in parliament four years ago as an independent on an anti-austerity platform.
Murphy's questioning unearthed complaints from unsuccessful bidders about the sale process, which ended with Siteserv being sold to O'Brien, the chairman of telecoms company Digicel Group Ltd.
O'Brien is also the biggest shareholder in Independent News & Media Plc, which publishes some of Ireland's most popular newspapers, and the owner of a number of national radio stations
Under Murphy's questioning, Irish Finance Minister Michael Noonan said that his officials had raised concerns about the sale, including the payment to shareholders and the exclusion of trade buyers from the process, with bank executives as far back as 2012.
Maximum Return
At a packed press conference in April, the bank's chairman Alan Dukes said any suggestion of wrongdoing is "outrageous," and the sale of Siteserv to O'Brien provided the maximum return to taxpayer. A spokesman for Siteserv declined to comment.
Dubliner O'Brien is worth $3.8 billion, according to the Bloomberg Billionaires Index. His fortune has its roots in an Irish telecoms company, Esat Digifone, which he sold to BT Group Plc in 2001, six years after winning an Irish cell-phone license.
In 2011, a public inquiry said it was "satisfied" O'Brien had made payments to a government minister responsible for the granting of the license. O'Brien and the minister deny any wrong-doing in connection with the license.
Parliamentary Privilege
Ramping up her campaign, Murphy last month claimed under parliamentary privilege that O'Brien –- an Anglo Irish debtor -- received a preferential interest rate from the bank after its nationalization. She said she received the information from a "number of reliable sources."
In his piece for the Irish Times, O'Brien immediately fired back.
"Murphy has used the files to attempt to damage me and to gain notoriety and political advantage for herself," he said.
Murphy disputes this. she's driven by a sense of injustice sparked by the taxpayer bailout of the banks.
"We're after leaving the most appalling situation for our children and our grandchildren, in terms of paying for something they didn't cause. The last thing I want to do is leave them another set of problems," Murphy said. "If something was wrong here, we need to put it right."