Obama Beseeches Dissenting House Democrats on Trade Bill
Carter Dougherty, Kathleen Miller and Erik Wasson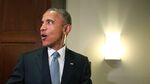 President Barack Obama is scrambling to persuade almost 100 fellow Democrats to support a landmark trade bill, a centerpiece of his second-term agenda, that most of them sought to block.
In his weekly radio address, Obama called on Democrats in the House of Representatives to reconsider their votes, which on Friday stalled a sweeping agreement with Pacific Rim nations and came despite earlier appeals from the president.
"I urge those members of Congress who voted against Trade Adjustment Assistance to reconsider, and stand up for American workers," Obama said on Saturday.
"Simply put, America has to write the rules of the 21st century economy in a way that benefits American workers. If we don't, countries like China will write those rules in a way that benefits their workers," Obama said.
Supporters of Obama's fast-track trade proposal will try to rescue it in a new House vote as soon as Tuesday, after Democrats scuttled final action on the plan Friday.
White House press secretary Josh Earnest called the embarrassing defeat a "procedural snafu" and said he was optimistic that Democrats ultimately would help send the fast-track trade negotiating measure to Obama.
Meanwhile, the House's majority Republicans said it will be up to Obama to turn around Democratic skeptics.
'Isn't Over'
"The president has a lot of work to do with his own party to turn this around," House Ways and Means Committee Chairman Paul Ryan, a Wisconsin Republican, said during an interview on "Fox News Sunday." "I'm optimistic. I think this can be salvaged, because people are going to realize just how big the consequences are for American leadership."
Democratic opponents included House Minority Leader Nancy Pelosi, who criticized the trade plan in a dramatic floor speech. Pelosi signaled, though, that prospects for passage will increase if Republicans act on other Democratic priorities, such as a highway funding bill.
Democratic backers of the trade bills said they would spend the coming days trying to persuade colleagues to revive the worker assistance bill.
Democrats blocked final passage of the fast-track trade measure hours after a rare visit by Obama to the Capitol to seek their support. In a 126-302 vote, they helped reject a displaced workers' aid program they have supported for decades. Under procedures adopted for the vote, it had to pass for a final vote on fast-track authority to be binding.
The House then voted for the fast-track measure, 219-211. It won't go to Obama's desk unless the worker aid bill also passes.
Business Lobby
The Trade Benefits America Coalition, the main business lobby behind fast track, urged Republicans and Democrats to win final approval together.
"We encourage members of the House of Representatives to quickly forge an agreement so that TPA can be enacted into law," David Thomas, president of the coalition, said in a statement, referring to the fast-track bill.
Obama has lobbied for months for the trade measure, which would let him submit agreements to Congress for an expedited, up-or-down vote without amendments. The president wants the authority to aid completion of the 12-nation Trans-Pacific Partnership.
Many Democrats remain stung by the 1994 North American Free Trade Agreement, linking the U.S., Mexico and Canada, which labor unions blame for a decline in U.S. manufacturing jobs.
Fast-track supporters settled on a strategy for the next few days based on reminding colleagues of their long-term support for aiding workers who lose their jobs because of free trade agreements, known as trade adjustment assistance.
Union Opposition
Democrats who support the worker aid and fast-track authority said they would tell skeptical party members that they should back TAA because it's no longer directly linked to trade negotiating authority.
"The reason not to vote for TAA is gone," said Representative Gerry Connolly, a Virginia Democrat. "Hopefully as temperatures cool, they will see a different context."
Labor unions will urge Democrats to remain steadfast in their opposition, said Celeste Drake, director for trade policy at the AFL-CIO, the nation's largest labor federation.
She said Democrats could win renewal of the worker aid program, which otherwise expires Sept. 30, by attaching it to another measure later this year.
U.S. Trade Representative Michael Froman said June 10 that the Trans-Pacific Partnership won't wrap up without passage of trade promotion authority and other agreements aimed at opening markets to U.S. goods and services.
Republican Support
"None of the other countries are willing to come to the table, have another meeting and put their final offers on the table until they see us having TPA," Froman told a group of business executives.
Republicans provided most of Obama's support in Friday's votes. They control the House 246-188, and support from 218 lawmakers is needed to pass a bill when all members are voting. In the vote on the worker aid program, 86 Republicans and 40 Democrats supported passage while 156 Republicans and 144 Democrats opposed it.
Some members who would have backed the bill switched their votes when Pelosi announced her opposition, suggesting that at least some of them may be willing to change again.
Obama blamed Republicans and Democrats in a statement on Friday that said, "inaction will directly hurt about 100,000 workers and their communities if those members of Congress don't reconsider."
The bill, H.R. 1314, would give Obama and the next president expedited trade negotiating authority for six years. The Senate passed it in May.