Greek Talks Seek Agreement as Germany Warns of Euro Exit
Marcus Bensasson and Jonathan Stearns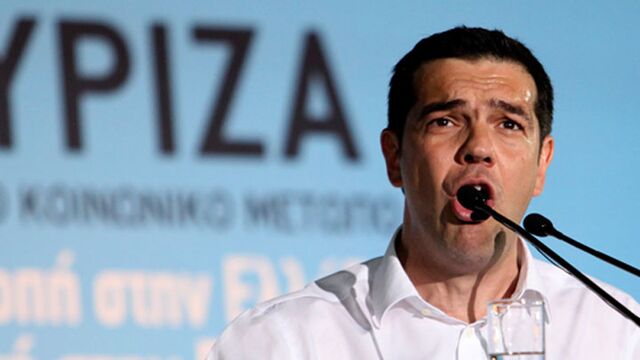 Germany gave its most explicit warning yet that Greece could eventually leave the euro as European Union officials try to hammer out a last-minute deal over bailout funds.
"The shadow of a Greek exit from the euro zone is becoming increasingly perceptible," German Economy Minister and Vice-Chancellor Sigmar Gabriel wrote in a Bild newspaper opinion column to be published on Monday. "Greece's game theorists are gambling the future of their country. And Europe's too."
Prime Minister Alexis Tsipras sent a delegation to Brussels for weekend talks on proposals to close differences on pensions, taxes and a primary surplus target. With positions hardening, the talks are European Commission President Jean-Claude Juncker's last attempt to reach a compromise, according to an EU official, who asked not to be identified.
European leaders from German Chancellor Angela Merkel to EU President Donald Tusk have voiced growing exasperation with Greece's brinkmanship that has pushed Europe's most-indebted country to the edge of insolvency.
Gabriel's Swipe
The swipe at Tsipras's government, coming from one of the more conciliatory voices toward Greece among Germany's politicians, underlines the hardening of attitudes in Berlin and elsewhere the longer the standoff drags on. In February, just after Tsipras was elected, Gabriel stressed the need for dialogue with Greece rather than rejection of the government's proposals. Gabriel is also the head of Germany's Social Democratic Party.
Representatives of the International Monetary Fund, the European Central Bank and the European Stability Mechanism are waiting in the wings to join the negotiations if progress is made between Greece's envoy and Juncker's chief of staff. The aim is to reach a deal before markets open on Monday, the EU official said.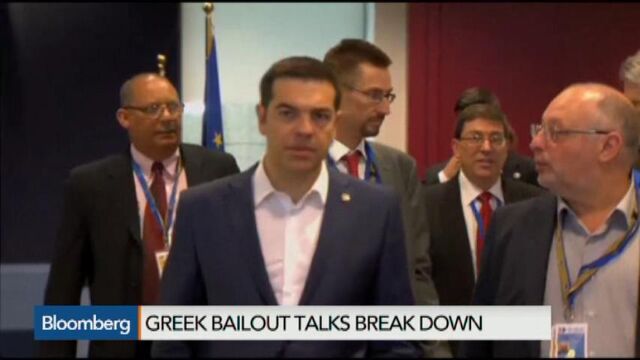 "We can confirm that the IMF will participate in the talks in Brussels today," Randa Elnagar, a weekend duty officer for the Washington-based IMF, said by e-mail in response to a Bloomberg query. ''That's all we have for now.''
Greek stocks fell 5.9 percent on Friday, with bank shares dropping 12 percent, as talks remained deadlocked. The yield on Greek 2017 bonds rose 137 basis points to 20.03 percent. U.S. and European equities and the euro-area's higher-yielding bonds also tumbled amid growing concern Greece will run out of time for reaching a deal to stave off default.
IMF, Juncker
The IMF spiked an attempt by Juncker to broker a compromise allowing Greece to defer 400 million euros ($451 million) of cuts in small pensions if it reduced military spending by the same amount, Frankfurter Allgemeine Sonntagszeitung reported, citing unidentified people with knowledge of the negotiations. The EU declined to comment on the report.
Greek Finance Minister Yanis Varoufakis said he won't sign up to a fiscal plan that doesn't work. While a primary budget surplus of 1 percent of gross domestic product was achievable in March, a deterioration of the economy since then means that it isn't any more, he said.
This should ''be the last negotiation taking place in crisis conditions," Varoufakis said in an interview broadcast Sunday on Alpha TV. "The target of the negotiation is to get out of the crisis. For that you need Greece to go back to markets, so a restructuring of the debt is needed."
The talks are difficult and positions are still far apart, an EU official said on Sunday, speaking on condition of anonymity. Senior European Commission officials are worried whether an agreement can be reached on time, the official said.
Read this next:
Before it's here, it's on the Bloomberg Terminal.
LEARN MORE