U.S. Equities Decline as Greek Debt Talks Show Little Progress
Oliver Renick and Jennifer Kaplan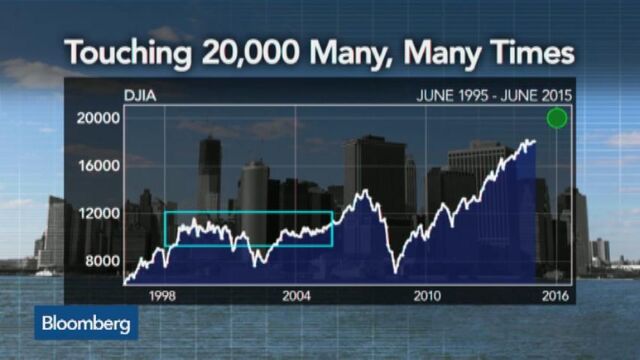 U.S. stocks fell, with the Standard & Poor's 500 Index little changed for the week, amid growing concern Greece won't reach a debt deal with its creditors in time to avoid default.
Energy shares retreated 1.2 percent as oil declined for a second day. Cisco Systems Inc. and Intel Corp. lost at least 1.1 percent to pace a slide among technology companies. Eli Lilly & Co. dropped 2.8 percent to lead health-care companies lower. Airlines climbed amid the decline in crude. Citrix Systems Inc. extended its rally to a third day.
The S&P 500 Index lost 0.7 percent to 2,094.11 at 4 p.m. in New York, with the gauge up less than 0.1 percent for the week. The Dow Jones Industrial Average fell 140.53 points, or 0.8 percent, to 17,898.84. The Nasdaq Composite Index slid 0.6 percent. About 5.1 billion shares changed hands on U.S. exchanges Friday, 19 percent below the three-month average and the second-lowest this year.
"Every time we think we're close to a deal with Greece there's some kind of monkey wrench," said Karyn Cavanaugh, the New York-based senior market strategist at Voya Investment Management LLC. Voya oversees $215 billion. "The more opaque the picture becomes with Greece the more people opine on what the potential repercussions would be and it's a little touch and go."
The S&P 500 all but erased a weekly gain as sentiment soured on the potential for an agreement between Greece and its creditors. Optimism for a deal earlier in the week, coupled with improving economic data had helped push the benchmark toward its best week since April.
After four months going around in circles, German Chancellor Angela Merkel urged Greece to accept the framework for financial aid as euro-area officials demanded a proposal for stabilizing the country's debt by the end of today.
Fed Meeting
Federal Reserve policy makers meet next week to discuss the potential timing of an interest-rate increase. Recent data have helped bolster the case for higher rates this year, and officials will issue new forecasts for the economy as well as the path of the federal funds rate. Chair Janet Yellen will give a press conference after the meeting.
Data today showed wholesale prices rose in May as the biggest jump in fuel costs in at least five years swamped muted advances in other categories. Costs dropped 1.1 percent over the past 12 months, in line with estimates.
A separate report showed consumer confidence rose more than forecast in June as Americans were the most upbeat about their wage prospects in seven years. According to data yesterday, consumers were more willing to spend, as increased retail sales reflected broad-based gains from car dealers to clothing outlets to department stores.
Energy Slumps
All 10 main groups in the S&P 500 dropped Friday, with energy falling the most as crude prices sank. Exxon Mobil Corp. and Chevron Corp. lost more than 1.2 percent. Southwestern Energy Co. and Transocean Ltd. lost at least 2 percent.
Coal miner Consol Energy Inc. declined 4.1 percent to its lowest in more than six years. Peabody Energy Corp. fell another 9 percent to an all-time low, after losing 13 percent Thursday.
Eli Lilly dropped 2.8 percent, after gaining 4.1 percent yesterday, as the health-care group lost 1.1 percent for the first decline in four days. Merck & Co. sank 1.8 percent to a six-week low. The Nasdaq Biotechnology Index fell 1.2 percent as Celgene Corp. and Amgen Inc. slumped more than 1.1 percent.
Semiconductors retreated for the ninth time in 10 sessions to weigh on the technology group in the benchmark index. Intel lost 1.7 percent to snap a two-day winning streak after Goldman Sachs Group Inc. said it sees heightened risk that Intel management may lower its quarterly earnings forecast before its report. Analog Devices Inc. and Nvidia Corp. slid at least 1.4 percent.
Airlines Rise
LeapFrog Enterprises Inc. plummeted 26 percent to a six-year low after the maker of children's electronics posted a wider loss than projected, hurt by sluggish demand for tablets and other products.
Keurig Green Mountain Inc. slipped 0.6 percent, earlier down as much as 4.1 percent, after UBS AG downgraded the shares to neutral from buy.
The Chicago Board Options Exchange Volatility Index rose 7.2 percent to 13.78, after reaching a three-week low yesterday. The gauge, known as the VIX, had its first weekly drop in three weeks.
The Bloomberg U.S. Airline Index advanced 1.2 percent, paring this week's loss to 3.6 percent after a JPMorgan Chase & Co. note Friday showed U.S. domestic fare boosts are widening. American Airlines Group Inc. gained 1.7 percent and JetBlue Airways Corp. added 1.3 percent.
Darden, Citrix
Bob Evans Farms Inc. climbed 2.9 percent to a three-month high after pursuing a transaction to squeeze money out of its real estate, a move spurred by activist-investor pressure.
Amicus Therapeutics Inc. increased 7.9 percent to its highest in more than six years. The biotech sold $225 million in stock to finance drug development and commercialization.
Olive Garden parent Darden Restaurants Inc. gained 1.6 percent after the stronger-than-forecast consumer sentiment report. Macy's Inc. and Urban Outfitters Inc. gained at least 1 percent.
Buffalo Wild Wings Inc. rose 3.2 percent, the most in more than two months, after exercising a right to buy 41 of its namesake restaurants to convert to company-owned locations.
Citrix Systems advanced 2.2 percent after at least three analyst upgrades. Activist investor Elliott Management Corp. Thursday called for an overhaul at the software maker, sending shares to their highest since September.
T-Mobile US Inc. gained 2.3 percent amid continued speculation on a deal with Dish Network Corp. Dish Chief Executive Charlie Ergen said in a Bloomberg TV interview that T-Mobile remains a logical merger partner for his company, but he declined to comment on possible talks.